The conflict in Ethiopia's Tigray region that started in early November 2020 quickly developed into a complex humanitarian crisis. It has all the hallmarks of a protracted and potentially deteriorating situation with regional dimensions. As a consequence, mass cross-border movement and even larger internal displacement has already occurred and looks set to continue.
This article explores the possible broader implications of the crisis in Tigray on migration dynamics in the wider region and will argue that most movement will be internal, some will be cross border to neighbouring states, but only a very limited number are likely to attempt to move further afield. The mixed migratory consequences of the crisis on different groups of people deserve disaggregation and closer analysis as people are affected in different ways. Meanwhile many of those caught in the conflict and resulting humanitarian crisis will be involuntarily immobile, feeling compelled and in need to leave, but constrained to do so because of dire conditions and pre-existing vulnerabilities.
More displacement inevitable?
Much of the movement already occurred in November and December 2020 as the first phase of fighting took place. The current situation points to likely further, and potentially increasing, movement and/or displacement.
As of early-January 2021, the total number of new refugees from Ethiopia in eastern Sudan was 55,500, many residing in hastily established camps at Um Rakuba, 70 kilometres from the border and in the Tunaydbah area of Gedaref state.
Exact numbers on internal displacement inside Tigray are difficult to establish and vary considerably, depending on the source. According to the Tigray Emergency Coordination Centre (ECC) there are  an estimated 2.2 million people internally displaced in Tigray, but ACAPS and OCHA refer to 222,000 recorded IDPs as of early January 2021. According to the UNHCR, "there are growing concerns of tens of thousands of Eritrean refugees and Ethiopian civilians being internally displaced within Tigray and further into the country". ACAPS recently categorised the current crisis with a 'severity' score of 4.1 and in terms of extreme 'humanitarian conditions' 4.8 (both out of 5).
Tigray's already fragile environment (longstanding food insecurity and a fraught political relationship with Addis and Eritrea), compromise and mitigate any early resolution to the humanitarian crisis. A summary of these factors and conditions that are likely to prompt further displacement and movement are worth listing:
On-going armed conflict: Although the Ethiopian government claimed victory on the 28th November 2020 and an end to military action, credible reports suggest sporadic fighting continues. In December, various observers and regional experts initially predicted the TPLF would become an insurgent force digging in for a protracted guerrilla war. Ethiopia's Prime Minister, Abiy Ahmed, categorised the TPLF as a 'terrorist organisation' and stated that he "won't rest till this junta is brought to justice."
Targeting of civilians: According to some reports thousands of lives have already been lost in Tigray – many among civilians – creating high levels of fear and displacement. Multiple attacks ensued with involvement of military units as well as non-combatant vigilante groups (Fano and Samri Youth Organisation) alternatively defending/attacking Tigrayan and non-Tigrayan communities. Apart from widespread communication blackouts, Ethiopian journalists have been harassed and arrested and some aid workers killed and others arrested in recent weeks.
Targeting of refugees: There have been numerous reports of attacks on Eritrean refugees in Ethiopia since the start of the conflict. The 96,000 Eritrean refugees in Tigray reside in 4 camps but in mid-January the UNHCR High Commissioner, Filippo Grandi stated, "I continue to receive many reliable reports and first-hand accounts of ongoing insecurity and allegations of grave and distressing human rights abuses, including killings, targeted abductions and forced return of refugees to Eritrea." Attacks on the Shimelba camp on the 17th January illustrate Grandi's claim of "concrete indications of major violations of international law" based on satellite imagery of fires and other destruction at Shimelba and Hitsats, from where aid workers have been withdrawn and into which no humanitarian access has been permitted. Eritrean soldiers were reportedly responsible for some of the attacks and abductions of Eritrean refugees while Ethiopian forces have been returning fleeing refugees to camps. The full impact on refugees (over 25,000) in Shimelba and Hitsats camps is still unknown.
Security fears of Eritreans: Eritreans living in Ethiopia may be victimised from two opposite angles: Eritrean dissidents, who for decades have been involved in opposition politics from Addis Ababa, now fear arrest and deportation. Eritreans living as urban refugees in other parts of Ethiopia (up to 80,000 registered) also feel unease as they may be mistaken for Tigrayans – sharing a similar appearance, language and culture. One Eritrean in Addis was reported as saying, "for a lot of refugees in Addis Ababa, the only way to survive is to go to Kenya, Uganda, or Juba [South Sudan]."
Security fears of non-Tigrayan Ethiopians: Tens of thousands of Amhara live in Tigray which is otherwise almost entirely populated by ethnic Tigrayans. There might be fears of retribution and insecurity as bitterness towards Amhara and those aligned to the Ethiopian government increases.
Security fears of Tigrayans: Local Tigrayan doubtless feel insecure. According to one analyst, to avoid deep resentment and long-running insurgency it is "critical to the current situation that the Tigrayan people do not see this conflict as a war against them as a collective". Another was quoted as stating that "the major challenge for the federal government has been how to defeat Tigray's leadership without alienating the Tigrayan people." Outside Tigray, in Addis, Tigrayans have claimed an increase in ethnic profiling and suspicion by neighbours and officials.
Obstacles to humanitarian access: Although some humanitarian access has been permitted since December and may increase in coming weeks, the number of people needing assistance is very high. UNHCR warned in early January that "the lack of basic services and shortages of food, water, fuel, and cash for over a month has severely impacted the lives of Eritrean refugees, IDPs and civilians." Access to two of the four refugee camps remains barred and problematic. Prior to the crisis, UNHCR claims approximately 100,000 Ethiopian IDPs and some 500,000 people were dependent on food relief assistance. In addition, 1 million people received 'safety net assistance'. Humanitarian agencies have compiled a Humanitarian Response Plan for Northern Ethiopia, seeking US$116.5 million to address the immediate needs of an estimated 2.3 million people. The ECC claim that more than 4.5 million people in the region need emergency food assistance on top of high need for a range of services (shelter, water and sanitation, health services, protection etc.). According to ACAPS, "health facilities outside of major cities are non-functional, while health facilities in major cities are partially operating, with limited to no stocks of medical and food supplies and an absence of health workers – many of whom have fled the conflict." Not surprisingly, protection concerns abound, including reports of gender-based violence.
Food insecurity exacerbated: As mentioned, approximately 1.6 million of Tigray's 6 million population were in need of external assistance prior to the conflict (including refugees). The impact of locust invasions and restrictions related to Covid-19 and its impact on livelihood and employment have been exacerbated by the conflict, preventing people from harvesting their crops. ACAPS report that "rice prices have increased by as much as 100% in Tigray region in comparison with pre-crisis levels. Fuel price increases are as high as 1,000%." Various media reports quoting officials predict that the prospect of mass starvation affecting large number of Tigrayans is likely, some already report of deaths from starvation.
Ethiopia-Sudan border dispute: Long contested border disputes between Ethiopia and Sudan developed into armed, lethal border skirmishes in December 2020 after a failed two-state summit on the issue. Ethiopia has accused the Sudanese military of taking advantage of the Tigray crisis to take control of the disputed land. There are current reports of military build-up on both sides of the border around the disputed Fashaga area, likely to affect the host population, as well as newly arrived refugees at the nearby Um Raquba camp.
These factors and conditions are rapidly and constantly changing with the inevitable uncertainty of an evolving complex emergency. Even if political agreements are found, much damage has already been done and many of the factors above will continue to be negatively felt and cause displacement in the medium term. The UNHCR Regional Refugee Preparedness and Response Plan for the Ethiopia Situation (Tigray) expects to have to meet the needs of 115,000 projected refugees outside Ethiopia by June 2021 – double the number of those currently in camps in Sudan. The two joint Government-humanitarian partners' assessment missions of late December 2020 both reported "a dire humanitarian situation with poor access to services and limited livelihoods.[…] ..food supplies are very limited, widespread looting is reported and insecurity is high."
Unequal impact and migration consequences
Considering the context described above, mass movement seems inevitable, but outcomes will be different for the various groups who are affected by the current crisis, and to differing degrees. Using the scenarios described above as indicators of drivers and applying them to different groups, the table below offers an indication of the likely outcomes in terms of mixed migration and internal movement.
| | | |
| --- | --- | --- |
| Population category | Potential drivers | Likely migration outcome |
| Tigrayan residents in Tigray | Failed harvests, food insecurity, aid access obstacles, locusts, Covid-19 impact, looting, conflict impact, etc. | Internal displacement probably inside Tigray – already 1.6 million dependent on food aid before November 2020, now 4.5 million dependent. Depending on the source, between 222,000 and 2.2 million already displaced. |
| Ethiopian settlers and day-labourers in Tigray | Food insecurity, economic collapse, protection concerns, targeting by Tigrayans etc. | Internal migration within and outside Tigray seems inevitable. Violence across Ethiopia has displaced more than 3 million people over the last two years, yet there is no evidence that substantial numbers of those migrated out of Ethiopia or north towards North Africa and/or Europe. |
| Eritrean refugees in Tigray | High insecurity, high vulnerability, targeted for forced repatriation, targeted attacks on individuals, camps lacking food and water and health and protection, international aid denied in 2 camps (currently about 96,000 Eritreans resident in 4 camps). | Internal movement inside Tigray and other parts of Ethiopia evident, but also movement into Sudan and beyond (so called 'secondary movement') can be expected following other Eritreans leaving from Eritrea. Likely to meet challenges moving to and within Sudan and Libya and entry to Europe more constrained due to Covid-19 restrictions and bi-lateral state agreements with the EU and between countries in Europe and Africa. |
| Eritrean refugees in Ethiopia but outside Tigray | Suspected and resented in Ethiopia due to Tigrinya language / culture (additional 70,000 or more as urban refugees), but also activists against the Eritrean regime will feel insecure due to the new Ethio-Eritrea alliance. | Some may consider movement outside of Ethiopia, possibly to Sudan and beyond (Libya, Egypt, Europe) but also to Kenya, Uganda and even to Yemen/Saudi Arabia, although to date, Eritreans, contrary to Somalis and Ethiopian, have hardly used the eastern route out of the Horn of Africa to Yemen. |
| Tigrayans in Sudan (new refugees) | Overcrowded and under-provisioned but safer than Ethiopia. | Unlikely to move onwards out of refugee camps, except to return to Tigray when the situation is safer. Majority waiting to return, unlike Eritreans who are more likely to practice secondary movement and have in past years featured in relatively larger numbers along migration routes running north from Sudan, compared to Ethiopians. |
| Oromo in Ethiopia | As Ethiopian military are caught up in Tigrayan insurgency, the Oromo rebellion (active now) could become stronger and resulting repressive responses by the government could increase. | More Oromo become desperate and leave, using the Eastern route into Yemen and Saudi Arabia, already much used by this group in the last decade – the Oromo are consistently the largest single ethnic group using this route. |
| Somalis | Ethiopia has already withdrawn soldiers from Somalia's western border. If it reduces troop involvement in Somalia, Al Shabab may become stronger and more active, resulting in further chaos in Somalia: "Wherever Ethiopian troops have withdrawn, al-Shabab attacks against local militias, leaders, and populations ensued; in most cases, the group has eventually taken over those territories." | Rising strength of Al Shabab will result in more Somalis displaced internally, some also trying to leave via Yemen and Kenya (as refugees) and some moving further – leveraging extensive diaspora networks and ready acceptance as refugees inside and outside the continent. |
| Eritreans in Eritrea | Afwerki's regime may become more militarised and stronger (with Ethiopian support and crushing of long-standing enemy TPLF) with conscription more enforced and national poverty / conditions yet worse. | More people may try to leave Eritrea through Sudan with probable intention to move north towards Europe to apply for asylum, although numbers of Eritreans applying for asylum have dropped dramatically in recent years. If blocked then more Eritreans in Sudan and Libya, possibly Egypt and Tunisia. |
| All / any group of people in Tigray or Ethiopia affected by the conflict, including Eritrean refugees | Feeling compelled and in need to leave due to all, or part of, the drivers listed above, but constrained to do so, due to lack of capacity caused by absence of resources, physical capacity, capital, transport, restrictions, oppression, etc. | High potential to be involuntarily immobile – an often neglected but most vulnerable group of the Tigrayan crisis, who experience factors that would normally prompt displacement, but cannot move. If sustained and if sizable in number, their situation will be the basis of current and subsequent humanitarian needs potentially developing into longstanding crises. |
Not all conflicts lead to cross-border migration
Specific conditions are critical to cross-border mixed migration outcomes. The elements that make Tigray a complex humanitarian crisis are clear and conflict may continue, but there are various global and regional examples where war, crisis and displacement do not equate to cross-border movement beyond neighbouring countries – sometime not even that.
Despite severe humanitarian crisis and protracted conflict in Yemen resulting in massive internal displacement, a very small number of Yemenis are found in refugee camps, along migratory routes or living oversees as a result of their situation. By contrast, despite the very high risks, the war may have been an enabling factor for movement through Yemen to Saudi Arabia for many Ethiopians.
The devastating war in South Sudan has resulted in high numbers of internally displaced and refugees in Uganda and Kenya (and previously Egypt) but South Sudanese feature quite rarely on migratory routes beyond the region or found applying for refugee status in Europe and North America in significant numbers.
Long-standing conflict and a deteriorating humanitarian situation in Somalia have led to over a million refugees in neighbouring countries such as Ethiopia, Yemen, Kenya and Uganda but due to the protracted nature of the conflict and asylum acceptance, along with strong diaspora networks, Somalis are also found in significant numbers in North America and Europe and elsewhere.
Political chaos and economic collapse have led over 5.5 million Venezuelans to move cross border but a large number are in neighbouring Colombia (2 million) and most others in South American states. Relatively few have moved beyond South America (North America, Spain etc.). Even the war in Syria has primarily created over 6 million internally displaced persons and high refugee numbers in directly neighbouring countries (currently 5.5 million). There were special conditions that led to the 2014-2016 (and up to present day) mass movement of Syrians out of the Middle East and into Europe and beyond.
'Special conditions' may also evolve out of the current crisis in Tigray, eventually resulting in a unique profile of movement affecting the various groups identified in the above table. The dynamics of mixed migration and destination choices of those on the move are complex and subject to various factors including existing cultures of migration, obstacles to mobility, aspirations and capabilities, of concerned individuals, existing diasporas and migration networks (including smugglers).
Expected impact of the Tigray crisis on mixed migration in the region and outside         
It is clear that the conflict has and will continue to have a strong impact on displacement and movements within Ethiopia and within the region, even more so when it further escalates and other countries become involved or are affected, which a potential to further destabilise the wider Horn of Africa region. However, while it is too soon to be able to assess, let alone predict, the potential impact on mixed migration out of the region, including towards North Africa and Europe, based on the current situation and how it affects the various groups described above, this seems highly unlikely.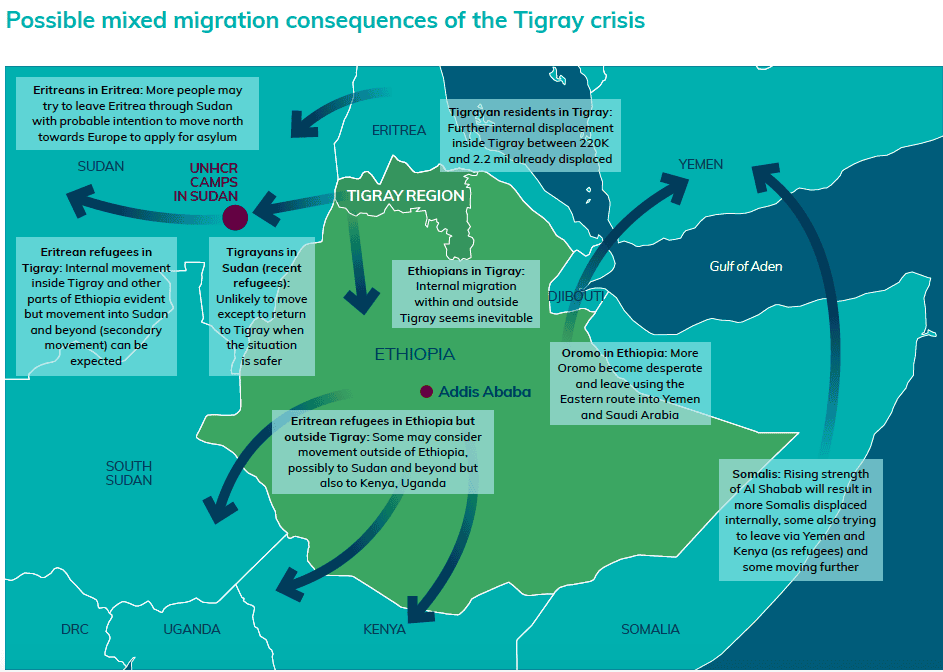 First of all, in light of the elements of analysis proposed so far, it appears that mass internal displacement, and involuntary immobility, will be the most likely and most numerous outcomes of the Tigrayan crisis.
Ethiopian refugees seeking safety in Sudan arrive exhausted, hungry and with few belongings. This is a population that is escaping armed conflict and violence, fleeing to the nearest place of safety. They are unlikely to be able to afford the expensive migration journeys to North Africa, let alone Europe, if they would even have the intention to do so.
Therefore, refugee movement to proximate/neighbouring countries is and will be the most direct cross-border consequence involving Tigrayans and Eritrean refugees. To a much lesser degree, secondary movement from refugee camps and efforts to move to more distant countries – including on the Eastern route to Yemen – will be undertaken by some Ethiopians, but probably mostly by Eritreans and some Somalis – if Somalia is further destabilised as a result of the Tigray conflict.
Low numbers of Eritreans have engaged in onward migration from refugee camps towards Europe in recent years. As such, it is likely that refugees currently in the camps have little intention or resources to migrate to Europe. A quick deterioration of their circumstances in Tigray – as is currently happening – could change this, though it could also further restrict their capability to move, leading to involuntary immobility and making them highly vulnerable and cut off from assistance, but unable to move. The military build-up by Sudanese forces along the Sudanese-Ethiopian border, as well as the mobilisation of Eritrean troops along the Eritrean-Ethiopian border is likely to make it harder for people to cross these borders on their way out of the region.
The route to North Africa and Europe is only one route of many out of the region. While it tends to get the most attention in international media and migration policy discussions, other routes out of the Horn of Africa region, are used by much larger numbers, especially the Eastern route towards Yemen and Saudi Arabia. However, since the outbreak of the Covid-19, there has been massive drop in numbers along this traditionally busy mixed migration route, primarily used by Ethiopians (though not by Tigrayans). It remains to be seen whether the current conflict will lead once again to increasing numbers along this route. Traditionally, this route has been much cheaper and might be more accessible and a more viable option for those displaced due to current conflict.
In addition to wider restrictions on 'northern route' movement put in place in recent years following the European 'migration crisis' (2015-16), movement will be further hampered by Covid-19 restrictions which during 2020 already significantly reduced international movement from the region. The humanitarian onus will therefore be on assisting IDPs in Ethiopia and refugees in Sudan. Where primary or secondary cross-border movement occurs taking people into Yemen, Sudan, Libya and Tunisia, we can expect to see a rise in human rights violations along the routes and a build-up of desperate migrants and refugees frustrated in their efforts to find a better and more secure life.
No matter how these dynamics are going to play out and whether or not those directly impacted by the conflict will engage in mixed migration in any direction, the possibility of onward movement out of the region, should ultimately not even be the primary concern. The primary reason to mobilise all efforts to mediate and peacefully resolve the conflict should be the immediate humanitarian situation and assistance to those affected by the conflict, whether unable to leave Tigray as involuntary immobile, internally displaced or those seeking safety across the border in Sudan or elsewhere. Not least, protection of up to 100,000 Eritrean refugees in Tigray should be of the highest priority.