As of 1st of May, the fighting in Sudan rages on, despite an apparent extension of the truce between warring sides. Some analysts have portrayed the situation as the nightmare scenario, potentially leading to the collapse of Africa's third largest country, where a third of the 45 million inhabitants are already dependent on humanitarian aid. An estimated 334,000 individuals have been displaced within Sudan since fighting began, and it is estimated more than 100,000 people – including Sudanese as well as (returning) refugees and migrants from other countries – have been recorded leaving the country since the conflict began on 15th April. If the fighting continues, UNHCR says more than 815,000 people may flee Sudan, including 580,000 Sudanese refugees and 235,000 refugees from neighbouring countries such as South Sudan, Ethiopia and Chad, who had settled in Sudan to find safety but are now caught up in a conflict in their host country.
A protracted conflict scenario in Sudan raises several concerns for the mixed migration situation in and through the country, in the region, and beyond. Sudan hosts one of the largest refugee populations on the continent, and is a key country of transit and origin for refugees and migrants traveling towards North Africa and sometimes onward to Europe along the Central Mediterranean Route: refugee and migration stakeholders should be prepared for a complex array of mixed migration consequences and dynamics alongside a humanitarian emergency.
This article starts with a quick overview of the current conflict and up-to-date glimpse of the current internal and cross-border displacement situation, and then focuses on the short, medium and longer-term mixed migration consequences of the conflict – should it persist – and how it impacts on different population groups that make up the Sudanese 'mixed migration landscape'. It concludes with some reflections on the impact of the latest developments in the country for migration governance cooperation in the region and beyond.
Sudan conflict in brief
Conflict broke out in Khartoum and several other cities across Sudan on April 15th, 2023 between the Sudanese Armed Forces (SAF), led by General Abdel Fattah al-Burhan, and the Rapid Support Forces (RSF), led by Lieutenant General Mohamed Hamdan "Hemedti" Dagalo. Tensions had been escalating between the two leaders since they joined forces during the 2019 coup against Sudanese President Omar al-Bashir, centering on the RSF's refusal to integrate into the army and its ramp-up of power. The RSF's movement of soldiers and weapons into Khartoum and other areas of the country in recent weeks and its attempt to capture the strategic town of Merowe, with its large airport, central position within the country, and proximity to the electric dam along the Nile, triggered the outbreak in fighting on April 15th.
Fighting continues in Khartoum, Gedaref and Blue Nile (near the borders with Ethiopia and Eritrea), Darfur (nearest the border with Chad but also near the borders of the Central African Republic and South Sudan), and in Kordofan. There is a risk of more people within Sudan's fragmented society taking up arms and aligning with local military factions, undermining any future local-level peace processes. With conflict reaching Sudan's border regions, a possibility exists for spillover conflicts in neighbouring countries.
The current migration and displacement situation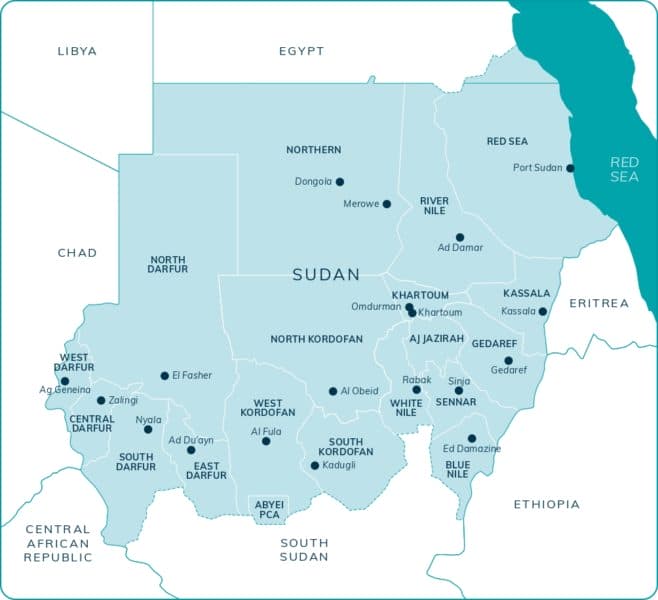 The conflict has already had significant consequences for cross-border movements and internal displacement. As mentioned above, as of April 28th, over 334,000 have been newly displaced internally, most in West Darfur (194,000), South Darfur (45,000), Northern (29,000) and Khartoum (13,500) states. It is estimated more than 100,000 people have left Sudan, mainly to neighbouring Egypt, South Sudan, Chad, and Central African Republic. The composition of arrivals differs substantially by country of arrival. Egypt is mostly seeing Sudanese refugees, while in South Sudan almost all new arrivals (around 27,000) are returning South Sudanese refugees. Those arriving in Ethiopia (an estimated 8,900) are – except 870 refugees from Sudan and 750 returning Ethiopian refugees – almost all third-country nationals. So far, Sudanese are mainly fleeing to Egypt, Chad and CAR. UNHCR has not yet registered any refugees from Sudan arriving in Libya, while IOM has observed the arrival of 550 individuals (nationality unknown). To be noted that all these figures are updated on a daily basis given the dynamic situation.
Impact on the 'mixed migration landscape' in Sudan
Impact on Sudanese
The migration consequences for Sudanese affected by the conflict can be divided into six major groups.
i. Involuntarily immobility
First, while much of the reporting by international media and humanitarian agencies focuses on (cross-border) displacement of Sudanese – with the former so far even more focused on the successful evacuations of foreign citizens – many Sudanese will be involuntarily immobile. They might need to leave, but are constrained or unable to do so because they do not have the resources and the price of travel has skyrocketed; the fighting is too severe and movement would be dangerous; and/or because they are vulnerable – or caring for vulnerable people, such as children, older people, or people with disabilities – and cannot make the journey. Both in Khartoum and other areas where fighting is concentrated, large populations of Sudanese will be trapped. This often neglected group of people is usually among the most vulnerable in any conflict and humanitarian crisis. Forced immobility can be expected to rise as conflict spreads, supply lines break down and food, water and fuel resources become even more scarce.
One particular group of Sudanese now trapped in Sudan are those whose passports were at foreign embassies from countries such as the UK, Sweden, Germany and the Netherlands for visa processing. The embassies have been closed and the diplomats evacuated, and the passports were not returned.  Unable to apply for a new passport as Sudanese services have been closed, many are now unable to flee Sudan – Egypt, for example, will not let people enter without a passport – and are separated from their family.
ii. New internal displacement
Second, there already is and will continue to be large-scale internal displacement. Hundreds of thousands of Sudanese have already fled Khartoum, Darfur and other areas as a result of active fighting, but also scarcity of food, water and other vital resources. Reports have emerged of some Khartoum residents moving nearby to Al-Jazira state and other pockets of relative calm where they have extended social networks and where they can reach relative safety to plan whether to stay put or move onward outside of the country.
Should conflict become protracted and exacerbate ethnic tensions, with Sudanese across the country joining local factions and taking up arms, departures will continue. As in any conflict situation and as current figures also show, internal displacement can be expected to far outweigh cross-border movement. As of 1st May, UNHCR is planning for 600,000 newly internally displaced people.
iii. Existing population of IDPs
Third, the current conflict affects the population of Sudanese who were already internally displaced before the recent outbreak. As of 31st March 2023, there were 3.7 million IDPs in Sudan, 70% of whom were living in formal camps, mainly located in Sudan's western and southern states (Darfur and Kordofan). Fighting has been taking place in areas already affected by very high levels of internal displacement, like Darfur, which hosts approximately 80% of IDPs. The fighting has reportedly prompted many IDPs to leave their camps and places of residence: according to IOM 64,595 IDPs have already left their place of residence in Khartoum state.
IDPs in particular are dependent on humanitarian assistance. Since mid-April at least 18 humanitarian aid workers have been killed and offices of UN agencies and other humanitarian organisation have been looted, leading to the suspension of aid operations in most parts of the country, and leaving thousands of IDPs and other vulnerable groups without access to essential services.
iv. Sudanese refugees outside of Sudan
Fourth, even before the current conflict, the region hosted large numbers of Sudanese refugees, primarily in South Sudan (290,000), Chad (410,000), Ethiopia (50,000) and Egypt (60,000). The current situation in Sudan means that the prospects for a safe return and reintegration in Sudan remain very bleak, and instead their numbers are growing.
v. Cross-border movement
Fifth, Sudanese are fleeing abroad. As of 1st of May, just under 80,000 Sudanese are estimated to have left the country, primarily to Egypt (40,000), Chad (30,000) and CAR (5,600). Refugees in Chad and CAR primarily come from Darfur and most are likely to end up in the existing and/or newly planned refugee camps in the border areas. UNHCR is planning for an additional 100,000 Sudanese refugees arriving in Chad, 10,000 in CAR, 45,000 in South Sudan, 40,000 in Ethiopia and 35,000 in Eritrea.
The arrival of thousands of new Sudanese refugees in neighbouring countries like Chad, South Sudan, Egypt and Libya will be challenging:
Chad already hosts 400,000 Sudanese refugees and, from next month, the World Food Programme intends to halve food rations owing to inadequate funding for the country's humanitarian response. Sudanese refugees newly arriving in Chad will face critical food shortages if greater resources are not made available.
South Sudan itself is experiencing conflict and crisis, with a fragile peace process that is intertwined with the stability of Sudan. The arrival of thousands of Sudanese refugees (and almost 200,000 South Sudanese returnees, see below) in need of humanitarian aid and reintegration assistance raises significant concerns about the conditions and protection risks they will face.
South Sudan is also dependent on Sudan for its fuel supplies and economic production. The majority of South Sudan's oil is piped through Sudan for refining and export and oil generates 90% of South Sudan's revenue. While no interruptions to oil trade have been reported yet, any impact could have dire consequences for the country. Moreover, the northern regions of South Sudan are reliant on supply lines from Sudan.
Sudanese fleeing Khartoum and other major urban areas, and those slightly better off with more resources, are more likely to flee to Egypt, already home to a large Sudanese diaspora estimated at 4 million. As of 1st May, UNHCR is planning for an additional 350,000 Sudanese refugees arriving in Egypt. Some of those arriving have pre-existing ties to, and active social networks in, the country and can obtain visas to cross the border. For those without links to the country, the visa situation is far more unclear as, allegedly, whether one enters as a refugee claiming asylum or as a tourist, Sudanese must obtain a stamp in their passports to legally enter. Already there are reports of long visa queues, over-crowding, and rising humanitarian needs in border post areas. As the conflict persists, displacement to Egypt is likely to increase, and an acute humanitarian situation may unfold at the border.
While there are hardly any new arrivals reported in Libya as of 1st May, Libya has been a key country of destination for Sudanese migrants since 1987, when Sudanese were given the opportunity to enter and settle within the country without a visa, and with the potential to receive long-term residency permits. However, Sudanese currently face challenges crossing the border, with reports of Libyan militia groups, as well as Sudanese militia currently involved in the Libyan conflict allegedly pushing arrivals back.[1] Chad might therefore become a more important country of transit from Sudan to Libya. However, this emerging route is hardly a safer option.
vi. Onward movement of Sudanese already abroad
Sixth, and last, there is the (medium to longer-term) potential of onward movement of Sudanese after having already fled Sudan. People may initially stay in neighbouring countries to wait and see how the situation in Sudan evolves. If conflict persists, those with the resources and networks may eventually decide to move on and seek better opportunities elsewhere in countries farther afield, along mixed migration routes in North Africa and Europe. Sudanese currently feature among the top nationalities intercepted by the Libyan coastguard attempting to reach Europe, and in the top 20 nationalities arriving in Italy (the difference due to the higher interception rate of Sudanese compared to some of the other nationalities). Increasing challenges leaving Sudan and entering Libya are not likely to deter this long-standing corridor. On the contrary, an increase in Sudanese attempting the Central Mediterranean crossing to Italy is to be expected, though numbers are likely to be modest compared to internal and cross-border movement within the region.
Since the 2011 Revolution in Libya, Tunisia has become a primary destination (as well as transit country) not only for Libyans fleeing instability but also some refugees and migrants who experienced grave human rights violations in Libya's notorious detention centres and/or at the hands of local militias and smugglers. An increase in the number of Sudanese in Tunisia is possible, seeking a safer alternative to Libya in Tunisia or across the Mediterranean. The rise in xenophobic rhetoric and violence in Tunisia in recent months, combined with the country's worsening political crisis may mean that Sudanese arrivals find a strained protection environment once in Tunisia and seek to move onward.
Turning to the Western Mediterranean Route, the movements of Darfuri Sudanese might increase through Morocco to Spain, should conflict persist. This unlikely route garnered international attention in June 2022 during the Melilla tragedy, when many of those killed when attempting to cross the land border to Spain were Darfuri Sudanese. It remains to be seen whether Darfuris or other Sudanese increase their use of this route.
Finally, there is a possibility of Sudanese movements to Kenya as well as along the Eastern route from the Horn of Africa to Yemen and onwards, or the Southern Route from East Africa to South Africa. Contrary to Ethiopians and Somalis, Sudanese traditionally have not travelled along these major mixed migration routes originating in East Africa. However, a lack of other options might encourage more Sudanese to travel along routes previously less used.
To summarise: most Sudanese will be unable to flee, with many involuntarily immobile, and this is one of the most vulnerable groups which should not be forgotten; the level of internal displacement is expected to far outweigh cross-border movement; a particularly vulnerable group which requires attention is the already existing IDP population, whose access to support is now even more limited and who potentially have to flee again; large-scale refugee movements are expected into neighbouring countries, while prospects for the return of existing Sudanese refugees in the region are even more bleaker than before; and finally, the longer the conflict persists, the more likely it is that some Sudanese will move onward from neighbouring countries, along mixed migration routes out of the region, and to destinations further afield.
Impact on refugees and migrants already in Sudan
Often forgotten in countries in crisis are refugees and migrants already in the country. Refugees and migrants caught up in the conflict may not have support networks spread across Sudan. This makes it difficult to know where to go or how to leave and, combined with their existing vulnerabilities, is trapping many of them. The exception are foreign diplomats and aid workers, primarily from western countries, who are often quickly evacuated (see below).
Refugees in Sudan
As of 31st March 2023, Sudan hosted 1.1 million refugees, mainly from South Sudan (over 800,000), Eritrea (137,000), Syria (90,000) and Ethiopia (70,000). The majority live in out-of-camp settlements and urban areas, with the largest number (over 300,000) in Khartoum. With some of heaviest fighting taking place in Khartoum, many refugees – who have escaped war and dictatorships in their home countries – are now again severely affected by war, and left behind to fend for themselves. At least eight refugees are among reported civilian casualties of the conflict.
If fighting continues in major refugee-hosting areas it can be expected that increasing numbers of refugees who are in Sudan and are able to flee will do so, with three options: seeking a safer place within Sudan, return to their home country, or secondary displacement to another country. UNHCR reported to the Irish Times that about 33,000 refugees have fled Khartoum to refugee camps in White Nile State, 2,000 to camps in Gedaref and 5,000 to Kassala. There they may have found at least some level of safety and access to basic services for now. For those trying to escape Sudan to third countries, lack of passports may mean they could be forced to cross borders irregularly, making them more vulnerable to exploitation.
Finally, many refugees who had settled in Sudan but are now caught up in the fighting are already trying to return to their country of origin. If the fighting continues, this is a trend that is expected to continue and increase, creating considerable humanitarian challenges. As of 1st May, almost 21,000 South Sudanese refugees have returned to South Sudan. The numbers of refugees from other countries returning home remains low so far, with only 750 Ethiopians returning, and 400 returnees to CAR, but this could be just the beginning: UNHCR is planning for 180,000 South Sudanese refugee returns, as well as 15,000 Ethiopians, 20,000 Eritreans, 15,000 Central African Republicans and 5,000 Chadians.
The return of almost 200,000 refugees in South Sudan will create a massive humanitarian challenge in a country already in crisis. While in Ethiopia, peace talks only began on April 24th, following the cessation of hostilities at the end of last year after more than two years of civil war. The talks come amidst rising ethnic tensions and violence in the country. Many of the 60,000 Ethiopian refugees in camps in Eastern Sudan had been waiting to determine the durability of peace before considering return. Their returns linked to the current conflict raise questions about the voluntariness of their movements and the sustainability of their return.
Migrants in Sudan
Beyond the Ethiopian refugee populations hosted in camps in the East – which so far is less affected by the fighting – a large population of Ethiopian migrants is estimated to live in Sudan, including 100,000 in Khartoum,[2] and hundreds of thousands migrate seasonally to the country each year to work in the agricultural sector. Protracted conflict in Sudan will cut off a vital source of livelihoods for Ethiopian families who rely on income generated across the border. These Ethiopian families may turn toward more precarious work opportunities farther afield. While UNHCR has not been reporting nor expecting massive numbers of Ethiopian refugee returns so far, IOM is anticipating 100,000 Ethiopian returnees to cross into Ethiopia at the Metema border crossing in the coming days, if fighting does not cease.[3]
In addition to Ethiopian migrants, Sudan is a major destination country of migrants from other countries, such as Bangladesh, Burkina Faso, Niger, Nigeria, Mauritania, Somalia, and the Philippines, attracted by economic opportunities, particularly in the city of Khartoum or in the oil industry elsewhere. It is estimated Sudan hosts approximately 1.2 million migrants, among them 10,000 Egyptians, who have been asked to leave the country and already started going back. There is little information of major evacuation operations for citizens of African Sub-Saharan countries. Only Nigeria seems to have started evacuation by land, through Port Sudan and from there to Aswan (Egypt), of 3,500 out of the 5,000 Nigerians living in Sudan. Problematically, many migrants lack visas or valid papers, leaving them particularly vulnerable. As described by the Migrants in Countries in Crisis Initiative (MICIC) while migrants are resilient and resourceful, a variety of factors create particular vulnerability for migrants in the face of such crises. Language barriers, restrictions on mobility, irregular immigration status, confiscated or lost identity or travel documents, limited social networks, isolation, and attacks and discrimination are some of the factors that hinder the ability of migrants to access protection, move out of harm's way, or otherwise ensure their own safety and wellbeing. The conflict in Sudan is a prime example where the lessons learned and approach of MICIC can and should be applied to ensure migrants caught up in the conflict are not forgotten and receive adequate support.
Other foreign residents
After being initially caught off guard by the sudden explosion of armed violence in the capital city and other regions, most western countries quickly started to organize and carry out evacuations of their citizens, often starting with diplomatic and humanitarian staff whom belligerents had begun to target. European countries, the US, Canada and Japan were among the first to carry out evacuations, airlifting thousands of their citizens. Evacuations continued, and are still ongoing, via land, mostly to Port Sudan, and from there to Jeddah (Saudi Arabia), by boat. Saudi Arabia have been playing a very active role, using warships and private chartered vessels, evacuating more than 5,000 people of 100 nationalities as of 1st May, of whom only a few hundred were Saudi.
The level of international media focus on foreigners evacuated by cargo planes during the first days of the conflict has been striking. This particular out-migration of well-off foreigners at times received far more international media attention than the situation of millions of Sudanese trapped in the conflict or those internally displaced.
Very few of the reported 16,000 US/Sudan dual nationals in the country have been included in the first round of evacuation. The plans of the US administration for the others, would they wish to leave, are not clear and this has already raised criticism.
To summarise: Sudan is a major refugee-hosting country, and refugees are heavily affected by the fighting, so they can be expected to flee to places of safety within and beyond Sudan; refugee returns to neighbouring countries are expected to increase and this will considerably challenge the humanitarian response in countries of origin; while it is estimated that Sudan hosts more than a million migrant workers, this group is often forgotten, but they may face particular vulnerabilities when caught up in conflict. The Migrants in Countries in Crisis initiative provides useful lessons learned to ensure protection and support for this particular group, which has been less likely to benefit from the swift evacuations of foreign diplomats and aid workers from Western countries.
Sudan as a transit country
Sudan has been an important crossroads for refugees and migrants from East and the Horn of Africa to reach North Africa and Europe. Prolonged conflict in Sudan will undoubtedly transform movement dynamics through the country.
While nationals from the East and Horn of Africa – primarily Eritreans and Somalis – were among the main nationalities to arrive in Italy along the Central Mediterranean route between 2014 and 2018, arrivals from these countries have been very low since then. Many may have instead stayed in Khartoum and Omdurman, which are major transit hubs, to work, save money for the next leg of the journey, decide where to go next or organize smuggling. The conflict could encourage many to swiftly leave, if they can.
Moreover, it should not be assumed that conflict will deter refugees and migrants not yet in Sudan from transiting through Sudan. On the contrary, a situation of conflict and lawlessness can actually lead to increased transit migration, as has been the case in Libya and Yemen, showing that people on the move are prepared to take extreme risks in search of safety and a better life. Thus, the situation in Sudan might actually re-open this previously major transit route from East Africa.
Smuggling and trafficking dynamics
With Sudan descending further into chaos and increased transit migration, people on the move will become more reliant on smugglers, for safe passage through and around conflict zones, leading to increasing smuggler fees and potentially more exploitative arrangements with smugglers.
Kidnapping and extortionate detention has been well documented in Sudan. The situation in Libya demonstrates how the fracturing of a conflict into numerous locally-embedded militias creates a power vacuum, leading to a lack of rule of law, and an increased need and opportunity for militias to raise capital by preying on people on the move. If the conflict drags on in Sudan and further fragments, we are likely to see an increase in arbitrary detention for ransom as well as trafficking in persons. For years, kidnapping for ransom and human trafficking was rampant in Eastern Sudan, with especially Eritreans being targeted, who were then transported to Egypt's Sinai Peninsula. A further collapse of Sudan risks leading to a re-emergence of this trafficking phenomenon.
To summarise: the current conflict in Sudan could lead to increased transit migration from the Horn and East Africa towards North Africa, and potentially onward to Europe. Smuggling, and potentially trafficking and exploitation, are likely to increase.
Broader political considerations and consequences for migration governance cooperation
Given Sudan's strategic position along migration routes, particularly towards Europe, the country has been a key stakeholder in regional and inter-regional migration policy processes. One of the two migration dialogues associated with the joint Valletta Action Plan is the Khartoum Process. Following the Sudanese Revolution and ensuing popular protests, in June 2019, the African Union (AU) Peace and Security Council suspended Sudan's participation in all AU activities until the country transitioned to civilian-led government. The suspension was reaffirmed after the October 2021 coup and appeared to accompany a withdrawal of Sudan's role in the Khartoum Process, given that the AU is a steering committee member. As recently as February 2023, Sudan engaged in political talks to lift its suspension from the AU. Protracted conflict and political crisis in Sudan will only move the country further away from cooperating on issues of international migration governance.
EU-Sudan cooperation
A particularly crucial component will be how the EU and member states respond and frame any future cooperation with Sudan on migration governance. The EU has been supporting Sudan – and other African countries – in a bid to stem migration to Europe and has even been accused of supporting the RSF by building their capacity as a border force involved in stopping refugees and migrants from moving to Libya. Indeed, over the years since 2017, more than the regular government forces, the RSF has been responsible for most of the arrests of migrants on their way to Libya, and has thus been an important player in the effort to stem migration towards North Africa and Europe. The EU has always denied any of its funding reaches the RSF. Even if that is true, by supporting Sudan and with Sudan delegating patrolling key mixed migration routes to the RSF for many years, it could be argued the EU has played a role in the legitimization of the RSF. As Clingendael already warned in 2018: "migration policies that undermine good governance, result in human rights violations and contribute to destabilisation only feed migratory dynamics". Five years later, it seems this scenario has materialised.
Undoubtedly, concerns are high in Brussels and EU capitals about a potential increase in migration towards Europe due to the conflict. Simultaneously, both sides of the conflict know from previous experience, and from other countries, that cooperating with the EU on stemming migration is a way of gaining support, funding and legitimacy. The EU should carefully assess this situation and avoid past mistakes. Human rights, a peaceful resolution of the conflict, assistance to and protection of vulnerable groups of trapped and displaced people should all have primacy over the much smaller issue of migrant and refugee arrivals to Europe.
Cooperation with Egypt
A second migration governance component to watch will be the relation between the EU and Egypt. As discussed above, Egypt already hosts millions of Sudanese and many more are expected to arrive. The country might become an important springboard again for onward movement towards Europe. While Egypt has a long tradition of strategically using its migration policies to support policy goals at home and abroad, since 2015, the chances for doing so have grown, as European partners have been keen on investing in transit states amidst high numbers of arrivals in Europe, departing from North Africa. According to DGAP, this left Europe with a dilemma: while it does not approve of the authoritarian nature of the Egyptian government, it increasingly depends on the country as a refugee host and enforcer of European migration management priorities. Egypt has quite effectively managed to prevent departures to Europe from Egypt's coast from 2016, and whenever there are increases in departures (of either third-country nationals or Egyptians themselves) it can count on EU support, such as in late 2022 when the EU signed a new 80 million EUR border management programme. Egypt could use the EU's migration concerns to its strategic advantage.
A complex geopolitical context
This is a conflict with many international parties somehow involved. The Libyan warlord Khalifa Haftar, who runs much of Eastern Libya and is himself backed by Saudi Arabia, the United Arab Emirates (UAE), Egypt and Russia, among others, supports and supplies the RSF, at the request of his Gulf State supporters. The RSF has been sending fighters to both Libya and Yemen, where in Yemen they fight on behalf of Saudi Arabia and the UAE. The Gulf States as well as Russia's Wagner Group are key partners of the RSF in the gold business in Sudan. Egypt, while supporting Haftar in Libya, actually supports the SAF in the conflict in Sudan, which it considers an ally in its dispute with Ethiopia over the construction of the "Grand Ethiopian Renaissance Dam" on the Nile.
In short, with so many international states and players involved and with both warring parties receiving international support, there is a dangerous potential for this conflict to continue for a long time and further destabilise the wider region, with potential implications for more forced displacement. 
Conclusion
As migration policy-makers and experts work to understand the full scale and scope of the conflict, figures on internal and cross-border movements are being updated daily. This article has attempted to synthesize some of this data as well as our existing knowledge of mixed migration dynamics in Sudan, to take a slightly longer-term and broader view of what mixed migration consequences we can expect, and anticipate their implications, if conflict and political crisis becomes protracted in Sudan in the coming days, weeks, and months.
Sadly, as argued by the Atlantic Council, with neither side of the conflict likely capable of a decisive victory, given Sudan's size and fractured political landscape, a likely scenario is a long multisided civil war and humanitarian disaster, like ones seen in Somalia, Syria or Yemen, with possible further destabilization of the region. For an adequate and rational response in Sudan, the region and beyond, it will be crucial for all stakeholders to maintain a realistic sense of the (expected) scale of various mixed migration consequences and dynamics and a proportionate focus, and not overly focus on some of the much smaller-scale migration consequences and humanitarian impacts that sometimes receive the most attention in international media.
[1] According to unnamed diplomatic sources.
[2] As reported in ad hoc Amhara ICCG meeting (April 26th, 2023).
[3] As reported in ad hoc Amhara ICCG meeting (April 26th, 2023).