---
"It was my only option": five stories of Afghans evacuated to Italy
On 15 August 2021, Taliban forces took control of Afghanistan's capital Kabul. While Afghanistan has a long-standing history of migration and displacement for reasons linked to conflict, insecurity, poverty, and environmental disaster, the fall of Kabul rapidly increased the number of displaced Afghans fleeing the Taliban regime. In the weeks leading up to the Taliban takeover around 30,000 people were reportedly fleeing Afghanistan every week to neighboring countries of Iran, Pakistan, Uzbekistan, and Tajikistan, and for some farther afield to Turkey and the EU.
During the very last days before the withdrawal of foreign troops from the country, European governments evacuated approximately 20.000 vulnerable Afghans, mostly individuals who previously worked with foreign governments and international NGOs, as well as human rights activists, journalists and ethnic minorities. These Afghan women, men and children are now scattered across several European countries, where they are trying to rebuild their lives, while following the developments of the situation in their country of origin.
The MMC will follow the paths of five Afghan asylum seekers over the course of the next year, with the aims of better understanding their individual stories, their experiences in accessing asylum or other forms of humanitarian protection, the perceptions, challenges, and opportunities in their socio-economic integration path in countries of asylum, as well as their future aspirations and intentions. The methodology follows a longitudinal life story approach, through repeated interviews every four months, which allows for a unique insight into the challenges respondents will be facing, and the choices they will be making in Europe.
The MMC conducted the first series of interviews between October and November 2021, with five people who were evacuated to Italy. Participants represent different ethnicities, religions, genders and age groups, in an effort to gain a wider overview of the Afghan displacement experience. Personal information has been treated with strict confidentiality and the names of the respondents altered, to protect their identity.
Here are the stories of Noor, Abdul, Hussain, Mohammed, and Laila so far: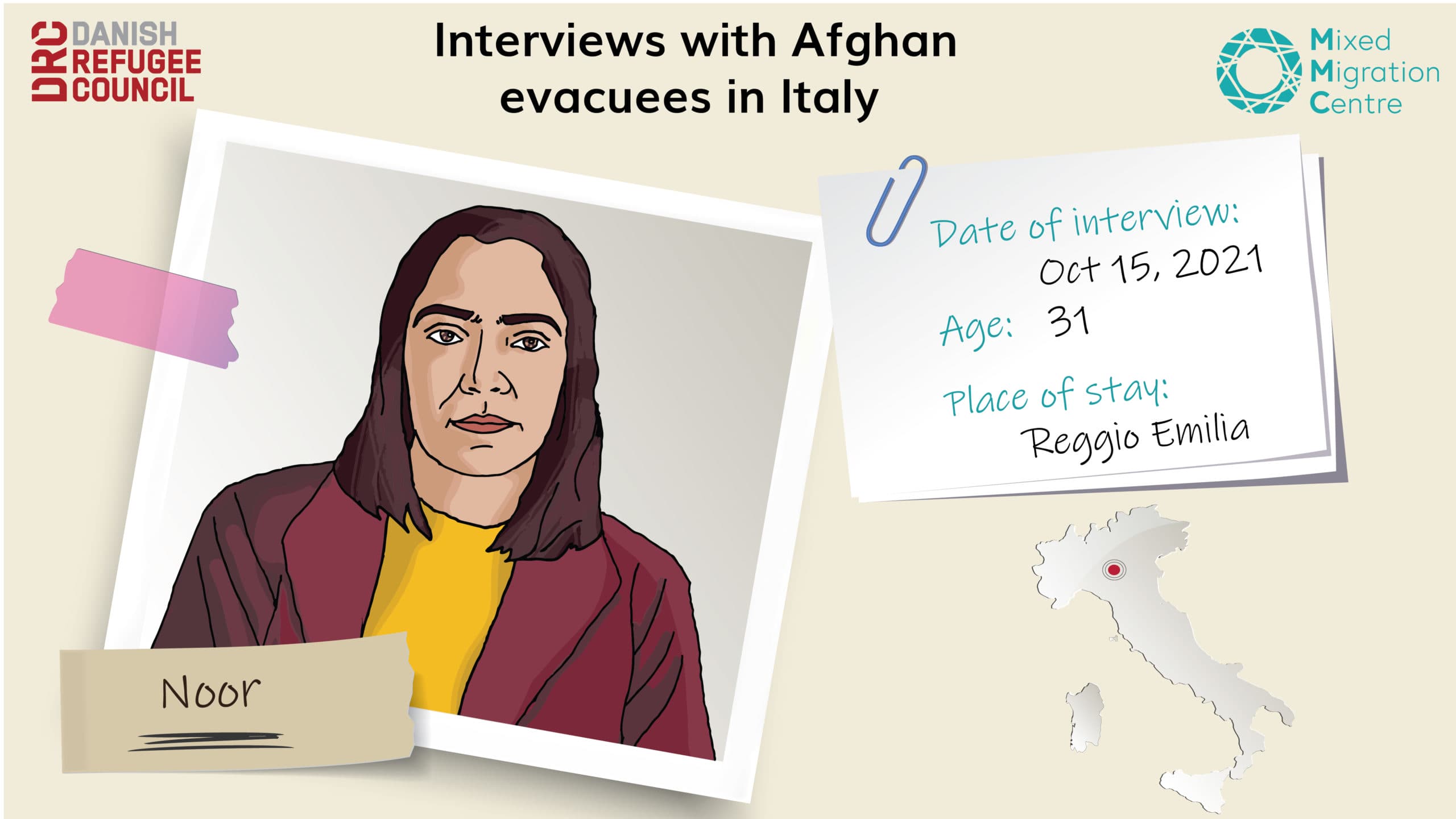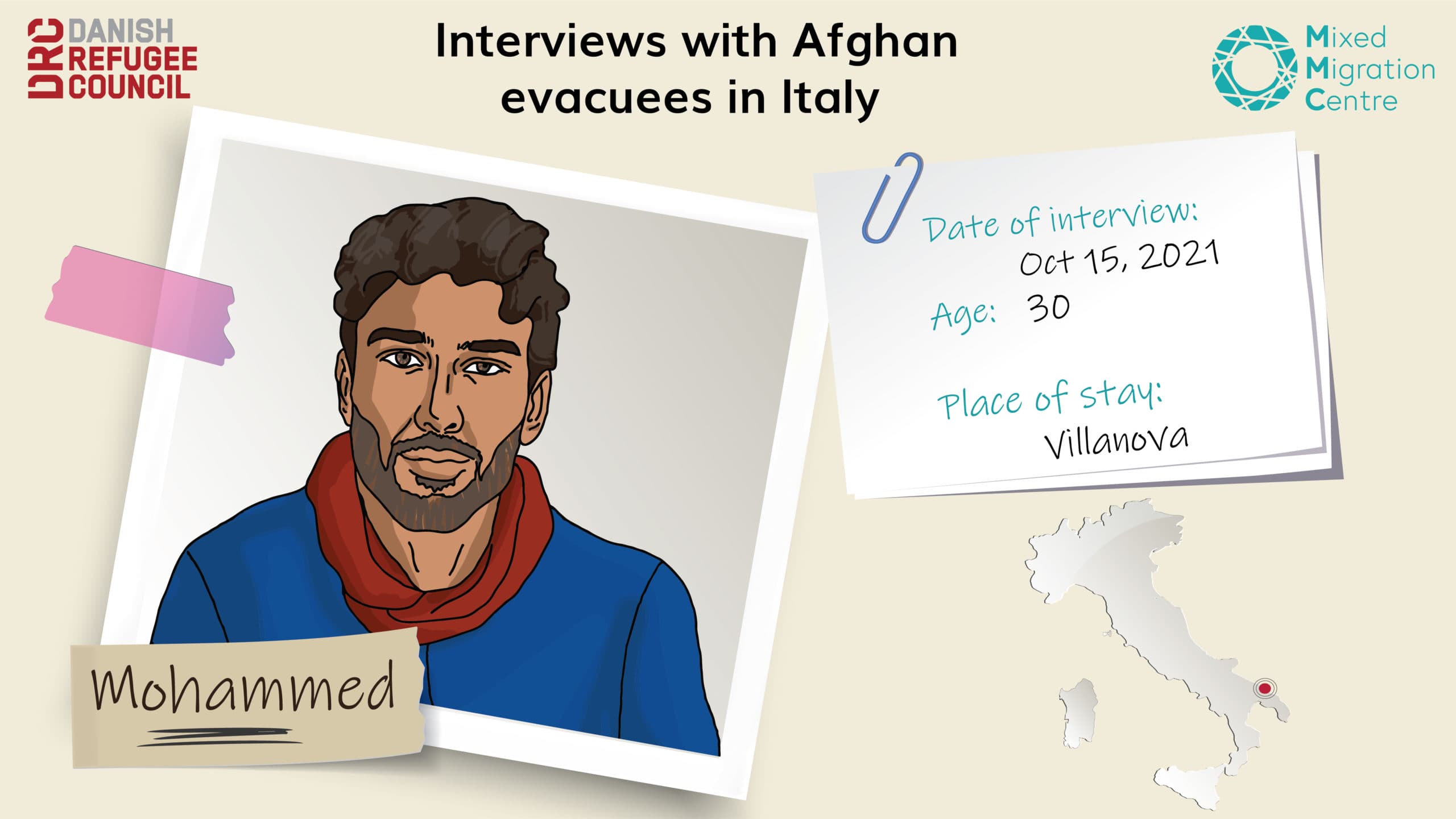 Noor
is 31. Originally from the Maidan Wardak Province, Noor was living in Kabul before she was evacuated.  She's Shia Hazara and left Afghanistan on August 26, 2021 with her husband. In Kabul, she worked for an international organization. She is currently hosted in a reception centre in Reggio Emilia. Noor flew out of Afghanistan on August 26 2021, on an Italian evacuation flight. She left with her husband, carrying just her laptop and a few personal items. As for many Afghans, Noor had already experienced leaving her home country. When she was 2, the worsening security situation in Afghanistan prompted her parents to move to Iran, where she lived and studied. However, in 2015, when she was 25 years old, she realized she could not see a future for herself in the country. She struggled with her parents, who had still "
a black idea of Afghanistan with regard to safety and security",
but eventually they accepted her decision and allowed her to go back to Afghanistan. "
If I stayed in Iran, I would never get a job. I studied for 18 years, and I didn't want just to get married and have a child, and cooking and wash dishes
".
Despite the many social, economic, and political challenges in Afghanistan, Noor didn't regret her choice. "Living in Afghanistan was a very nice opportunity and experience. (…) It was so nice. I had a job for the first time, and I thought that was the value of my education (…). I had freedom there, the thing I didn't have in Iran. I lived in my country. I was a refugee in Iran (…) but in Afghanistan I was a citizen, that was my country".  In Afghanistan, Noor found her first job. She worked as a lecturer at a private university, then found a job in a ministry before starting to work for an international organization. Unfortunately, the events that unfolded from August 2021 represented a breaking point that marked the end of her new life in Afghanistan, especially as a young Hazara, Shia woman. "(Taliban) are against women working, they are against freedom, they are against minorities. Hazara and Shia are in particular danger because they think we are not Muslim. They call us 'Kafer'. They think they are allowed to kill us because we are Shia". Stories of humiliations and atrocities towards ethnic minorities form part of a daily narrative. "In some provinces (…) Taliban are forcing Hazaras to leave their home. And if they don't leave their home in 3 nights, they would burn their home with them inside. This is the situation in Afghanistan".
Noor considers herself lucky to be one of those who managed to evacuate, yet the journey was challenging, both physically and emotionally. When she received a call from the Italian Ministry of Defence, all she knew was that she had to be at the Kabul airport the next day: "That was the most difficult part of the journey". Thousands of people crowded the airport's gates with Taliban performing "security checks" and telling Afghans (and Hazaras) to "go home". Noor still has nightmares about those days, but she is eager to discover what's next.
In Reggio Emilia, where she is currently living in a reception centre, she feels welcomed but anxious about cultural differences. "We don't know the culture, we don't know the rules, and I don't know how I should learn these things." The lack of information and the absence of tailored integration programs are major obstacles in easing transition into a "normal" life. "There should be some programs that would allow us to integrate into the society and learn from each other. Refugees could contribute, they could use their skills and knowledge, and share them with others".
Noor still doesn't know what the future holds for her. She sees both challenges and opportunities, and she is keeping a positive attitude concerning her permanence in Italy. "There are some opportunities, but because I don't have my documents maybe I'll miss them.  I will go wherever I can find a job, or I can study. There are many good universities in Europe, and I want to apply. If I find a job, maybe I will stay here". While she's adjusting to her new life in Italy, when she casts her mind towards Afghanistan, her eyes can't hide a mix of mistrust and resignation. "I don't see a bright future for Afghanistan. It's not possible now. The things we know of Taliban and the situation… No… It will be a dark future for Afghanistan. (…) Over 20 years, they killed so many people to be the "boss of Afghanistan". Now they are. But I don't know what they want to do with the people, with the country."
Abdul
is Sunni, and Tajik. He is 35 years old and comes from Mazar e Sharif. He's married and has four children. He worked for the government in Kabul. He flew to Italy alone on 24 August and he's currently staying in a camp near Florence. Abdul studied political science at the local University. Abdul studied political science at the local University, and after graduation, he found a job at the municipality while his wife was working in a shop. "
It was a good time, at least we had hope
". When the security situation worsened, and corruption among local government officials prevented him from advancing in his career, he moved with his family to Kabul, where he first found a job as a high school teacher before he started working at a ministry. Despite the many challenges of a country where corruption and clientelism are deeply rooted "
life [in Kabul] was good, and we were able to make a living until the last two-three years
".
Abdul has mixed feelings about the situation in Afghanistan over the last twenty years, before the Taliban take over. "There were a lot of education opportunities in Afghanistan. (…) So, our children had the chance to get a better education than us". However, he knows that the country was standing on precarious ground. The Taliban threat was no secret, and the security situation a harsh reality that Abdul personally experienced. "Everybody knew that the Taliban would come, or the country would fall into civil war (…). Insecurity was the main challenge. There were many explosions and suicide attacks. I personally got injured in an explosion (…) in 2008. I almost died". Abdul had already begun planning to leave Afghanistan and seek better opportunities elsewhere, in India or Pakistan, but "the Taliban came, and we didn't have the time to do that". As a public servant in the previous government, Abdul feared retaliation by the Taliban. "I worked with the government and the Taliban are looking for people who were working with the former government. It is dangerous for people like us and we are persecuted because of our ties with the government".
When Abdul was evacuated by the Italian government, on August 24, he didn't have time to think or choose a preferred destination. "[Italy] was my only option. Coming here was not something that I planned before". Because of the chaos at Kabul airport and the rush to get out of the country, Abdul had to leave his family behind yet only temporarily. "I will bring my wife and children. As soon as possible, when I get my residence permit and my case is settled, then I will start the process immediately". Abdul knows that life in Afghanistan for his wife and kids is too insecure. "[My children] are still at home and not going to school (…). My daughter cannot even go out of the house because they are afraid of Taliban soldiers (…). My wife is a teacher (…) but she has also lost her job since the Taliban came to Mazar. I am not sure she should go back to work, because it is really dangerous. Even if [the Taliban] let the girls and women teachers go to school, few dare to send their girls to school".
Abdul is currently hosted in a reception centre near Florence. He is still in shock, but he feels finally that he is safe. His mind is set on finding a durable future for his family in Italy. He wants to get his documents ready, learn the language and find a job. "I am waiting to get my residence permit and then I will try to find work. (…) I have to work and find enough money to bring my family here and make a good life here". Despite Abdul's efforts, integrating in Italy might not be easy. "It takes a lot of time for cases to be processed. The situation in camps is not very good, because there are not any useful programs for integration (…) and our time is wasted somehow (…). Proper language courses is a very important need. The current course we have is only two sessions per week and the quality is very poor". Regardless of the difficulties, Abdul's commitment to build a new life in Italy is solid. "The main thing I should consider is to learn the language (…). The other thing is a job (…). Everybody keep saying that there are no jobs in Italy (…) but I think it's not true. If someone looks for a job, he will find it. Of course, it might not be a good job like working in offices, but the pay is good and stable".
Abdul's future is not clear, yet one thing is sure: there's no going back. "For me Afghanistan is over, there is no hope. (…) Taliban are the same and they will continue to oppress people. (…) All I care about is getting my family out".
Hussain
is 52 years old. He arrived in Italy on August 26, 2021 with his wife and two children. They are Shia Hazara originally from the Daykundi Province, east of Kabul. Hussain was a university professor in Kabul, and his wife was a nurse. They are currently living in Reggio Emilia. Hussain, his wife and two children were evacuated by the Italian Government few days after the fall of Kabul. In Afghanistan, Hussain was a university professor, and his wife was a nurse. They had financial stability and the prospect of a good education for their children. Hussain came back to Afghanistan to build a new life after having been a refugee in Pakistan. "
I was very motivated and hopeful for the future of my country (…) More than everything, I was happy that I could use the knowledge I acquired when I was in exile for my country's men and women
". Their professional achievements were the results of perseverance and hard work. "
One year after I came to Kabul, I got married and we started to build our lives step by step. First, we rented a house in a very poor neighbourhood (…) and gradually, day by day, we worked and worked, and saved some money to buy a small house (…). I got into the university (…) and our life got much better financially. We built a wide network of friends in Kabul (…). Everybody respected us
". All this was taken away from them when the Taliban took over Kabul.
"We lost our house, our money. Everything."
Even before the Taliban took control of Kabul, Afghanistan was insecure and unstable, but it was their country. A familiar place, where they knew the challenges, they knew the rules and how to play by them. A place where they were committed to stay despite the difficulties. "Living in Afghanistan meant living in constant fear; fear of suicide bombers, fear of being killed in indiscriminate attacks, fear of being robbed. But (…) we had learned what to do in order to minimize those risks (…). Afghanistan was my own country, I had the right to work, to get an education, to work, to move everywhere I wanted (…). Of course, I had a lot of difficulties because of my ethnicity and the corruption, but it was worth it (…) I felt alive". The Taliban takeover was a game changer for Hussain and his family. They fear persecution because of their ethnicity (they are Hazara), their affiliation with foreigners (Hussain's job at the university involved many contacts with foreigners), their rejection of women's segregation based on strict gender roles. They could not accept their children growing up in a country where they would be deprived not only of their basic rights but also of their dignity. "I want my children to study and get educated in a free society, not to grow up with fundamentalist ideology and to be suppressed because of their beliefs, ethnicity and religion".
In Reggio Emilia (Italy) Hussain has found safety for his family. "It is safe here, no need to worry for your life (…) Life here is very predictable and there is not much space for surprises, contrary to Afghanistan where, when you leave your home to work, you are not sure if you will be back alive or not (…). I'm not worried for my wife and children". Nonetheless, he recognizes the challenges ahead and he's worried that the integration process might take longer than expected. "Finding a job is a concern that I've had from the first day I came here and will be a major challenge. Because I am not sure how much my expertise is needed here (…). The situation for my wife is better as we heard there is a great need for people with medical expertise in Italy and EU, but it seems she has to pass some exams or take some courses before she can find work." Hussain and his wife are still discussing what could be their best option for the future. His wife wants to move to Germany, while he would rather stay in Italy for now. "We can be of great value for Italy because we are educated people (…). We already have years of experience in our fields (…) so, if they help us with integration process in the community, we will be productive sooner and will have much more to contribute to Italian society".
Hussain hasn't abandoned the idea of going back to Afghanistan, but this is something he cannot do now. "If the Taliban regime collapses, I will definitely go back to my country (…) As long as the Taliban are there, it will not be safe for me and my family".
Mohammed
arrived in Italy on August 19, with his wife. He's 30 years old, Sunni, Tajik, and was born in the Kabul province. They lived in Kabul where Mohammed worked for the government, until the evacuation. They are currently hosted in a reception centre in Villanova, near Reggio Emilia. Mohammed spent his childhood living with his father in the Kabul province. Money was tight. Mohammed remembered that there were times when he had to fight over sugar with his cousin and when having a proper lunch was a luxury. But his father "
had the sense of doing business"
and, after a while, their life got better. His father started a business and Mohammed had the opportunity to get an education.  He studied IT engineering in India and after graduation he came back to Afghanistan and got a job within the government in Kabul where he worked until the Taliban's takeover.
Living in a country that has been in conflict for many years taught Mohammed to stand up against challenges and never lose hope. "As a citizen you want to have access to the basics of life. There was not much access to the basics of life, but when it came to how you have to live in your country, you have to find a way. So, the challenges were put behind". He risked his life many times. In 2009, he was almost kidnapped; during the years working with the government he was caught up in several bomb blasts and terrorist attacks, on his way to work. Despite it all, he was proud of being Afghan and was determined to do his part for his country. "I am somebody who is determined to work and do something with my life and be part of this whole process of doing something good for the people (…). For me there was no option of going out of Afghanistan. We had the ability to go out. We had the ability to go legally to other countries (…) but that wasn't an option for me because I wanted to live in Afghanistan". And then everything changed. The Taliban took over Kabul and the optimism transformed into desperation, pride into fear. "That was the first time in my life I'm like … everything that I built is gone. Zero, finished, nothing left".
The day of the fall of Kabul, Mohammed was on his way to work, just like any other day. He noticed something was different. The traffic was more chaotic than usual, and there were a lot of people crowding the streets. Then he received a call from a colleague telling him to go home because "the government is about to collapse". At first, he didn't want to believe it. "What are you talking about? I'm on my way to the office. We're supposed to have meetings today". It took a while for him to realize that it was all real. So, when an Italian friend gave him the opportunity to leave Afghanistan with the Italian troops, he knew he had to take that chance.
When he arrived at Kabul airport the next day with his wife, he couldn't believe his eyes. "The worst experience of my life". Taliban were everywhere, firing live ammunition and beating people indiscriminately. Mohammed wasn't sure they could make it through the crowd but for his wife there was no other option. "1000 things were going on in my mind. But my wife was ready to die. She wasn't going to go back (…). Either she is getting out of Afghanistan or she's going to die here". Mohammed's wife's determination gave him strength so eventually they made their way through the crowd and, after many hours, they finally got into the airport, where Mohammed's Italian friend was waiting for them.
In Italy, Mohammed is living in a reception centre in Villanova, in Northern Italy, with his wife. He's grateful to the Italian authorities but he's frustrated. "They leave you with no information, nothing (…) and the camp, you know, the guys at the camp … the managers they're rude sometimes (…). To be honest, I'm not happy with the way they treat us". With no information, the lack of integration programs and few opportunities to learn the language, building a new life from scratch is hard. But in spite of the challenges, Mohammed wants to stay in Italy and make a good life for himself and his wife, "We want to integrate into society quickly. We don't want to be a burden on the government (…).  If the country has brought us here (…) we want to contribute (…). They brought us here and they have given us this place too. So, we are staying in Italy and that's my plan".
When Mohammed looks back, he sees only a destroyed and hopeless country, marked by the recurring Taliban invasions. A country he would not go back to. "It's not the first time that Afghanistan has been through a phase like this (…). It took them 30 years or more to build this government (…). We built hope for ourselves (…) and then again this happened. (…) I don't want my kids to go through the same. (…) I'm done with Afghanistan".
Laila
is 26 years old. She's Sunni, Pashtun. She is currently in Rome, where she arrived with her three sisters on August 22, 2021. Laila has two masters: one in international relations and one in human rights. Before fleeing to Italy, Laila was working as research associate for an international organization in the development sector. Laila and her three sisters were evacuated from Kabul on August 22, 2021. One of Laila's sisters used to work at a foreign Embassy so after the Taliban take over, they were enlisted for evacuation. They tried several times to get into Kabul airport, but every time they had to go back home. The situation was unbearable, especially for Laila's sister who was nine months pregnant at the time. Taliban checkpoints were everywhere, people were being shot at and beaten up by the Taliban and the crowd was too much to handle.
"I got stuck in the crowd and I thought I would die. I started screaming and I collapsed. When I collapsed, my sisters decided it was not possible to enter. We went back". 
But then, Laila's sister remembered there was a secondary gate. They decided they would try one last time. They were lucky.
"The good thing was there was no Taliban checkpoint. It was only foreign troops".
Italian soldiers were also patrolling the entrance of the airport. They identified themselves to them and waited. After many hours, they got inside. The next day, they were in Rome.
Laila describes herself and her sisters as educated and independent women. When she was 2 years old, her father decided to move to Pakistan where, despite being refugees, better educational opportunities were available. She then moved to India where she finished her two Masters, one in international relations and one in human rights. Up until the evacuation, Laila was working as research associate for an international organization in the development sector. Her sisters also worked for international organizations. "All of us were educated, we were working. We had a good life. We had homes, we had a car. We were independent. We were happy with our life". Education, while a reason for pride and an accomplishment, was also a burden for them. "(…) We never said that we were working with international organizations because (…) women working with international organizations, according to society, they are not good girls. They say that these girls do not have good personality. (…) The first time my sister went to the US for a scholarship, we didn't tell anyone because they were discriminating against us". When the Taliban took over the country, they knew they would become easy targets. "If the Taliban come, they will target us because they don't allow woman education and they don't like such kind of women".
Laila is currently in Rome with her sisters.  After their arrival, they managed to bring their father and brother-in-law to Italy. The family is scattered across the city. "All of us are in Rome but we are not together. (…) Mentally we are not good. We suffer a lot. We face lots of problems (…) at least if we were together, we would be more relaxed". Laila is nostalgic about her life in Afghanistan, and aware of the difficulties she will face from now on. "Life will be a little bit challenging because we need to start from zero. The life we had in Kabul, our achievements, the good jobs that we had… (…) for two years we might not be able to have such kind of life". Living in a reception center, in a country where everything is new and different, is frustrating but at the same time she's determined to stay in Italy. "The support given by Italians is much better than other European countries (…). There might be challenges like we might struggle a little bit for job, for language, but me and my family we never want to leave Italy. (…) In our difficult times the people who helped us were Italian people. So, it's not good that for our own benefits we leave Italy and we go somewhere else". Also, she knows from her past experience in Pakistan what being a refugee feels like.  "I know being a refugee is not easy. I have experience being a refugee from when I was a child. People in Pakistan called us refugees. I did not know that time what refugee means. They were not calling us by our names, they were always saying they are refugees".  Likely, Italy will be different. Her only desire now is to integrate into society, find a job, and start a new life.
Laila's bond with Afghanistan is strong and she would like to go back one day, "if they give the woman rights. If they respect women" but she has seen this happen before, and the hope of a bright future in Afghanistan is fading away. "Afghanistan will not be in peace (…). We struggled for our education, for our rights. We built our home (…). And then, after 20 years again we were back in the same situation. (…) The situation might get good, might improve, but after 20 years again we would be back in the same situation".
---
"Non ho avuto altra scelta": cinque storie di afghani evacuati in Italia
Il 15 agosto 2021, le forze talebane hanno preso il controllo di Kabul. Le precarie condizioni economiche, di sicurezza e ambientali da sempre legano l'Afghanistan ai fenomeni migratori,  sia in uscita che in entrata. La caduta di Kabul ha tuttavia aumentato, in modo repentino, il numero di sfollati in fuga dal regime talebano. Nelle settimane precedenti la presa di potere da parte dei talebani, sembra che, ogni settimana, circa 30.000 persone siano fuggite dall'Afghanistan verso i paesi limitrofi (Iran, Pakistan, Uzbekistan e Tajikistan) o più lontano, verso la Turchia e l'Unione Europea.
Nei giorni immediatamente precedenti al ritiro delle truppe straniere dal paese, molti governi europei hanno provveduto all'evacuazione di circa 20.000 afghani vulnerabili. Si tratta, per lo più, di persone che lavoravano con governi stranieri e ONG internazionali, attivisti per i diritti umani, giornalisti e minoranze etniche. Queste donne, uomini e bambini afghani sono ora sparsi in diversi paesi europei, nel tentativo di ricostruirsi una vita.
Per un anno, il Mixed Migration Centre (MMC), seguirà i percorsi di cinque richiedenti asilo afghani con l'obiettivo di comprendere meglio le loro storie, le loro esperienze nell'accesso all'asilo e/o ad altre forme di protezione umanitaria, gli ostacoli e le opportunità del loro percorso di integrazione socio-economica nei paesi di asilo, nonché le loro aspirazioni e intenzioni future. La metodologia segue un approccio basato sulla "life story": le stesse persone verranno dunque intervistate quattro volte durante il corso dell'anno, per seguire il loro percorso, capire le loro scelte e le problematiche che si troveranno ad affrontare in Europa.
Il MMC, tra ottobre e novembre 2021, ha condotto la prima serie di interviste. Sono stati intervistati cinque afghani evacuati in Italia ed appartenenti ad etnie, religioni, generi e fasce d'età diverse. Lo scopo è fornire una panoramica quanto più ampia e variegata possibile dell'esperienza afghana in Europa. Le loro informazioni personali sono state trattate con la massima riservatezza, e i loro nomi alterati per proteggere la loro identità.
Ecco le storie di Noor, Abdul, Hussain, Mohammed e Laila finora: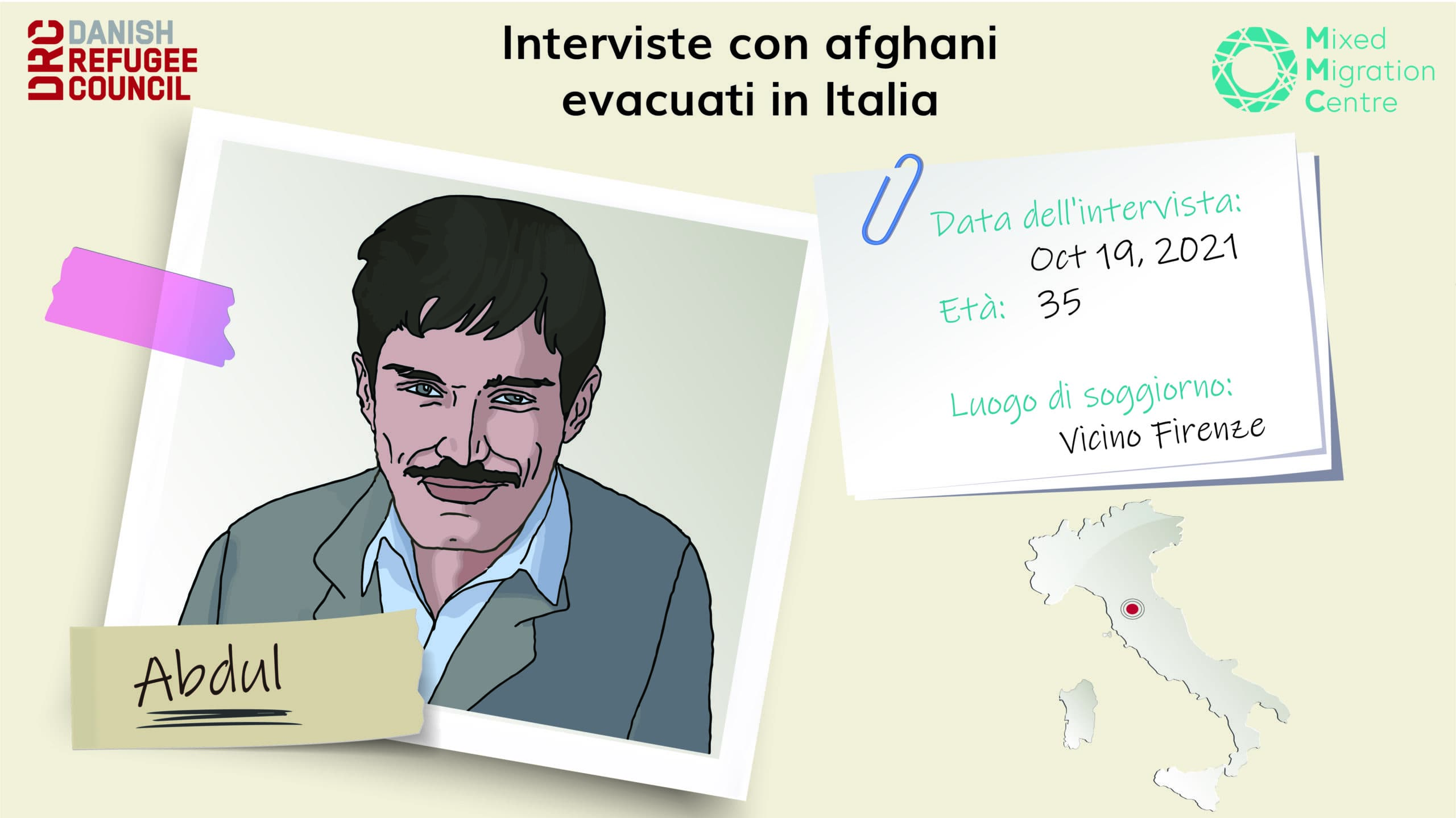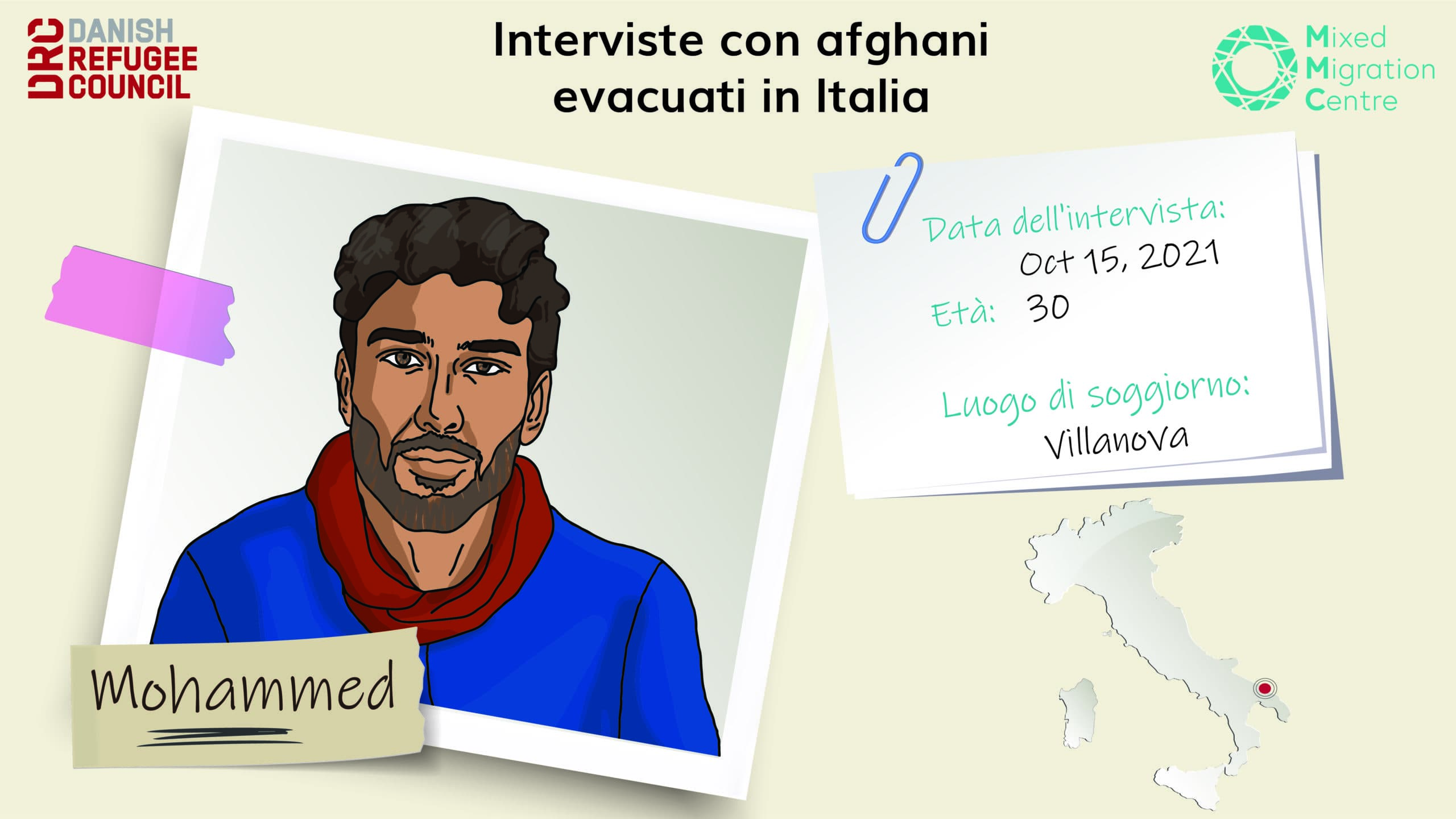 Noor
ha 31 anni. È originaria della provincia di Maidan Wardak e, fino all'evacuazione, viveva a Kabul.  È sciita di etnia hazara. Ha lasciato l'Afghanistan il 26 agosto 2021 insieme a suo marito. A Kabul, lavorava per un'organizzazione internazionale.  Attualmente si trova in un centro di accoglienza a Reggio Emilia. Noor e suo marito hanno lasciato l'Afghanistan il 26 agosto 2021 tramite un volo di evacuazione italiano, riuscendo a portare con sé solo il computer e qualche oggetto personale. Come molti afghani, anche Noor sa cosa significa essere costretta a fuggire dal proprio paese. Quando aveva 2 anni, a causa del deterioramento delle condizioni di sicurezza in Afghanistan, i suoi genitori decisero di trasferirsi in Iran dove ha vissuto e studiato fino al 2015. Tuttavia, all'età di 25 anni, Noor si è resa conto che l'Iran non avrebbe potuto offrirle un futuro promettente e l'idea di ritornare nel suo paese ha iniziato a farsi strada nella sua testa. Non è stato facile convincere i genitori poiché avevano ancora "
un'idea nera dell'Afghanistan soprattutto per quanto riguarda la sicurezza
" e avrebbero preferito che restasse in Iran.  Ma Noor era ormai decisa a ritornare in Afghanistan. "
Se fossi rimasta in Iran, non avrei mai trovato un lavoro. Ho studiato per 18 anni e non volevo semplicemente sposarmi, avere dei figli, cucinare e lavare i
piatti
".
Nonostante le enormi difficoltà di carattere sociale, economico e politico presenti in Afghanistan, Noor non rimpiange la sua scelta. "Vivere in Afghanistan è stata un'opportunità e un'esperienza molto bella. (…) Era veramente bello. Ho trovato il mio primo lavoro, e ho creduto di poter dare un senso alla mia istruzione (…). Lì ero libera, diversamente dall'Iran. Vivevo finalmente nel mio paese. In Iran invece ero una rifugiata (…) mentre in Afghanistan ero una cittadina. Quello era il mio paese".  In Afghanistan, Noor ha iniziato la sua carriera professionale, lavorando prima presso un'università privata, poi in un ministero, per approdare infine ad un'organizzazione internazionale. Purtroppo, la traiettoria dell'Afghanistan a partire dall'agosto 2021 ha segnato la fine della sua nuova vita lì, soprattutto in quanto giovane donna Hazara di religione sciita. "(I talebani) sono contro le donne che lavorano, sono contro la libertà, sono contro le minoranze. Gli Hazara e gli sciiti sono in particolare pericolo perché non sono considerati musulmani. Ci chiamano 'Kafar'. Pensano di essere autorizzati ad ucciderci perché siamo sciiti". Storie di umiliazione e crudeltà nei confronti delle minoranze afghane sono all'ordine del giorno. "In alcune province (…) i talebani costringono gli Hazara a lasciare le proprie case. E se non lo fanno entro 3 notti, vengono bruciate con loro dentro. Questa è la situazione in Afghanistan".
Sebbene Noor si consideri fortunata ad essere riuscita a lasciare il paese, questa esperienza l'ha messa a dura prova, sia da un punto di vista fisico che emotivo. Quando è stata contattata dal Ministero della Difesa italiano per essere evacuata sapeva solo che avrebbe dovuto trovarsi, il giorno seguente, all'aeroporto di Kabul. "Quella è stata la parte più difficile del viaggio", racconta. I gates dell'aeroporto di Kabul erano ingolfati dalle migliaia di persone che tentavano di lasciare il paese. I talebani, attraverso dei "controlli di sicurezza", intimavano alla popolazione (e gli Hazara in particolare) di "tornare a casa". La mente di Noor è ancora oggi popolata dagli incubi su quei giorni.
Attualmente,  Noor vive in un centro di accoglienza a Reggio Emilia. Si sente la benvenuta ma è preoccupata di non riuscire a comprendere appieno le diversità culturali che vede attorno a sé ed adeguarsi correttamente ad esse. "Non conosciamo la cultura, non conosciamo le regole e non sappiamo come fare ad imparare queste cose". La transizione verso una vita "normale" non è dunque priva di ostacoli. Mancano adeguati programmi di integrazione e le informazioni che le vengono fornite sono spesso carenti. "Dovrebbero esserci dei programmi che ci permettano di integrarci nella società e di imparare gli uni dagli altri. I rifugiati potrebbero contribuire, potrebbero usare le proprie abilità e conoscenze e condividerle con gli altri".  Noor non sa ancora cosa le riserverà il futuro.  È consapevole che in Italia si troverà di fronte sia ad ostacoli che ad opportunità; ciononostante mantiene un atteggiamento positivo riguardo la sua permanenza qui. "Ci sono alcune opportunità, ma siccome non ho i documenti rischio di farmele scappare.  Andrò ovunque riuscirò a trovare un lavoro o potrò studiare. Ci sono molte buone università in Europa e voglio fare domanda. Se trovo un lavoro, forse resterò qui".
Noor si sta adattando alla sua nuova vita in Italia e quando pensa all'Afghanistan, i suoi occhi non riescono a celare un misto di sfiducia e rassegnazione. "Non vedo un futuro luminoso per l'Afghanistan. Per ora non è possibile. Le cose che sappiamo sui talebani e sulla situazione attuale… No… Sarà un futuro buio per l'Afghanistan. (…) Nel corso di 20 anni, hanno ucciso così tante persone per diventare i "capi in Afghanistan". Ora lo sono. Ma non so cosa intenderanno fare con le persone, con il paese".
Abdul
è sunnita, di etnia Tajik. Ha 35 anni e viene da Mazar e Sharif. È sposato ed ha quattro figli. In Afghanistan, lavorava presso un Ministero. È arrivato in Italia il 24 agosto e si trova in un campo vicino a Firenze. Abdul ha studiato scienze politiche all'Università locale. Abdul ha studiato scienze politiche all'Università locale. Dopo la laurea, ha trovato un lavoro al comune, mentre sua moglie lavorava come commessa. "
Era un bel periodo, almeno eravamo speranzosi
". Fino all'evacuazione, Abdul viveva a Kabul dove si era trasferito a causa delle incerte condizioni di sicurezza e l'alto livello di corruzione all'interno della pubblica amministrazione locale a Mazar. Dopo un periodo di insegnamento in una scuola superiore, ha trovato un posto di lavoro presso un ministero. Nonostante la corruzione e il clientelismo, Abdul racconta che "
la qualità della vita [a Kabul] era buona e siamo riusciti a guadagnarci da vivere fino agli ultimi due, tre anni".
Abdul ha sentimenti contrastanti sull'Afghanistan degli ultimi vent'anni, quando ancora i talebani non erano al potere. "C'erano molte opportunità educative in Afghanistan. (…) I nostri figli hanno avuto la possibilità di avere un'istruzione migliore della nostra". Alle opportunità si affiancavano però le condizioni di sicurezza e la precarietà di un paese che ha vissuto per anni sotto la minaccia dell'avanzata dei talebani. "Tutti sapevano che i talebani sarebbero arrivati, o che il paese sarebbe caduto in una guerra civile (…). Il problema principale era la sicurezza. C'erano molte esplosioni e attacchi suicidi. Io stesso sono stato ferito durante un'esplosione (…) nel 2008 e sono quasi morto". Per questi motivi, Abdul voleva lasciare l'Afghanistan e cercare migliori opportunità altrove, in India o in Pakistan, ma "sono arrivati i talebani e non abbiamo avuto il tempo di farlo". Come funzionario pubblico di un governo spodestato, Abdul temeva le ritorsioni dei talebani. "Lavoravo con il governo e i talebani stanno cercando persone che lavoravano con il precedente governo. È pericoloso per persone come noi e siamo perseguitati a causa dei nostri legami con il governo".
Quando Abdul è stato evacuato dal governo italiano, il 24 agosto 2021, non ha avuto il tempo di scegliere una destinazione preferita. "[L'Italia] era la mia unica opzione. Venire qui non era qualcosa che avevo pianificato". Tra il caos all'aeroporto di Kabul e l'urgenza di uscire dal paese il prima possibile, è stato costretto a partire senza la sua famiglia. Abdul è tormentato per essere stato costretto a lasciarli in Afghanistan, tuttavia i suoi piani al riguardo sono chiari. "Porterò qui mia moglie e i miei figli. Appena sarà possibile e quando avrò ottenuto il permesso di soggiorno avvierò immediatamente il processo di ricongiungimento". Sa infatti che l'Afghanistan non è più un luogo sicuro per loro. "[I miei figli] sono ancora a casa e non stanno andando a scuola (…). Mia figlia non può nemmeno uscire di casa perché ha paura dei soldati talebani (…). Mia moglie è un'insegnante (…) ma ha perso il lavoro da quando i talebani sono arrivati a Mazar. Non vorrei che mia moglie ricominciasse a lavorare perché è davvero troppo pericoloso. Anche se [i talebani] permettessero il ritorno a scuole di bambine e insegnanti, pochi oserebbero mandare le proprie figlie a scuola".
Attualmente, si trova in un centro di accoglienza nei pressi di Firenze. È ancora sotto shock ma sa di essere finalmente al sicuro. La sua unica preoccupazione adesso è quella di assicurare un futuro duraturo e stabile per la sua famiglia in Italia. Vuole finalizzare le pratiche d'asilo, imparare la lingua e trovare un lavoro. "Sto aspettando di ottenere il permesso di soggiorno e poi cercherò un lavoro. (…) Devo lavorare e risparmiare abbastanza soldi per permettere alla mia famiglia di avere una vita dignitosa qui". Vede ancora molti ostacoli all'orizzonte, tra cui il lungo processo di integrazione nella società italiana. "I casi di asilo vengano processati lentamente. La situazione nei campi non è molto buona, perché non ci sono sufficienti programmi d'integrazione (…) e noi in qualche modo perdiamo del tempo utile (…). La cosa più importante è avere dei corsi di lingua adeguati. Il corso che stiamo seguendo è di sole due sessioni la settimana e la qualità è molto scarsa". Abdul però non si perde d'animo e ci parla dei suoi programmi futuri. "La prima cosa da fare è imparare la lingua (…). L'altra è trovare un lavoro (…). Tutti continuano a dire che non c'è lavoro in Italia (…) ma non penso sia vero. Se cerchi un lavoro, lo trovi. Certo, potrebbe non essere un buon lavoro all'inizio, ma la paga sarebbe soddisfacente e stabile".
Il futuro che l'Italia riserverà a Abdul è ancora da scrivere, ma su una cosa non ha dubbi: non si torna indietro. "Per me l'Afghanistan è finito, non c'è speranza. (…) I talebani sono sempre gli stessi e continueranno a opprimere la popolazione. (…) L'unica cosa che mi interessa è portare fuori la mia famiglia".
Hussain
ha 52 anni. È arrivato in Italia il 26 agosto 2021 con la moglie e i due figli. Sono entrambi Hazara sciiti originari della provincia di Daykundi, ad est di Kabul. Hussain insegnava all'università e sua moglie faceva l'infermiera. Attualmente vivono a Reggio Emilia. Hussain è stato evacuato dal governo italiano insieme alla moglie e ai due figli pochi giorni dopo la caduta di Kabul. In Afghanistan, Hussain era professore universitario e sua moglie faceva l'infermiera. Godevano di una certa stabilità economica e avevano la possibilità di garantire una buona istruzione ai figli. Per un periodo della sua vita Hussain ha vissuto in Pakistan da rifugiato per poi tornare in Afghanistan dove, insieme alla moglie, ha iniziato a costruire le basi per il suo futuro. "
Ero molto motivato e speranzoso per il futuro del mio paese (…) Più di ogni altra cosa, ero felice di poter utilizzare le conoscenze acquisite durante il mio periodo di esilio a favore degli uomini e delle donne del mio paese
". I loro successi professionali sono stati il risultato di perseveranza e duro lavoro. "
Un anno dopo il mio ritorno a Kabul, mi sono sposato e abbiamo iniziato a costruire la nostra vita passo dopo passo. All'inizio abbiamo affittato una casa in un quartiere molto povero (…) e gradualmente, giorno dopo giorno, abbiamo lavorato e lavorato, e abbiamo risparmiato un po' di soldi per comprare una piccola casa (…). Sono entrato all'università (…) e la nostra vita è migliorata molto dal punto di vista economico. Abbiamo costruito una vasta rete di amici a Kabul (…). Tutti ci rispettavano
". Quando però i talebani hanno preso Kabul, tutto è cambiato. "
Abbiamo perso la nostra casa, i nostri soldi. Tutto
."
Già prima della presa di potere da parte dei talebani, l'Afghanistan era un paese politicamente instabile ed economicamente precario, ma era il loro paese. Un luogo familiare, in cui sapevano come muoversi. Il luogo dove volevano vivere nonostante le numerose difficoltà. "Vivere in Afghanistan significa vivere nella paura costante. Paura dei kamikaze, paura di essere uccisi in attacchi indiscriminati, paura di essere derubati. Ma (…) avevamo imparato a minimizzare i rischi (…). L'Afghanistan era il mio paese, avevo il diritto di lavorare, di ricevere un'istruzione, di spostarmi liberamente (…). Certo, ho avuto molte difficoltà a causa della mia etnia e della corruzione, ma ne è valsa la pena (…) Mi sentivo vivo". L'insediamento dei talebani ha però cambiato le carte in tavola, rendendo la loro permanenza in Afghanistan troppo rischiosa. Hussain e la sua famiglia fanno parte della minoranza etnica Hazara, storicamente perseguitata e discriminata. Inoltre, in quanto professore universitario, Hussain è in costante contatto con gli stranieri, mal visti dal regime talebano. A ciò si aggiunge la loro ferma opposizione ad ogni forma di segregazione di genere. Tutto questo, li rende bersagli facili per il regime talebano e Hussain non vuole che i suoi figli crescano in un paese in cui sarebbero privati dei loro diritti fondamentali e strappati della loro dignità. "Voglio che i miei figli studino e si istruiscano in una società libera. Non voglio che crescano con un'ideologia fondamentalista e che siano perseguiti a causa delle loro credo, etnia e religione".
A Reggio Emilia, dove vivono in questo momento, non si sentono minacciati. "Qui è sicuro e non devi preoccuparti della tua incolumità (…) La vita qui è molto prevedibile e non c'è molto spazio per le sorprese, diversamente dall'Afghanistan dove, quando esci di casa per andare al lavoro, non sei sicuro che tornerai vivo (…). Non sono più preoccupato per mia moglie e i miei figli". Tuttavia, Hussain è consapevole delle difficoltà che lo attendono in Italia e che il percorso di integrazione potrebbe richiedere più tempo del previsto. "Trovare un lavoro è una preoccupazione che ho avuto sin dal primo giorno e sarà un grande ostacolo. Non sono sicuro quanto le mie competenze siano richieste qui (…). La situazione di mia moglie è migliore perché abbiamo sentito che c'è un grande bisogno di persone con profili medici in Italia ed in Europa, ma sembra che debba superare alcuni esami o seguire alcuni corsi prima di poter trovare lavoro". È convinto però che, con il dovuto supporto, possano riuscire a ricominciare una nuova vita in Italia anche se sua moglie pensa sia meglio trasferirsi altrove, magari in Germania. "In quanto persone istruite, possiamo dare un grande contributo all'Italia (…). Abbiamo già anni di esperienza alle spalle nei nostri relativi settori (…) e se facilitassero il nostro processo di integrazione all'interno della comunità potremmo contribuire più rapidamente alla società italiana".
Hussain non nasconde il desiderio di voler ritornare, un giorno, nel suo paese. Tuttavia, ad oggi, questa opzione sembra ancora molto lontana dal potersi realizzare. "Se il regime talebano crollasse, tornerei sicuramente nel mio paese (…) Ma finché ci saranno i talebani, l'Afghanistan non sarà un luogo sicuro per me e per la mia famiglia".
Mohammed
è arrivato in Italia il 19 agosto con sua moglie. Mohammed ha 30 anni, è sunnita di etnia Tajik ed è nato nella provincia di Kabul. Fino all'evacuazione, vivevano a Kabul dove Mohammed lavorava per il governo. Attualmente sono ospitati in un centro di accoglienza a Villanova, vicino Reggio Emilia. Mohammed e la sua famiglia vengono da una città nella provincia di Kabul. Mohammed racconta che, durante l'infanzia, i soldi scarseggiavano.  Doveva 'lottare' con suo cugino per lo zucchero ed il pranzo era, per loro, un lusso. Suo padre, però, aveva il "
naso per gli affari
" cosa che gli permise di avviare un'attività commerciale ed offrire al figlio un'educazione all'estero.  Mohammed ha infatti studiato ingegneria informatica in India e dopo la laurea, tornato in Afghanistan, ha trovato un lavoro all'interno del governo dove ha lavorato fino alla presa di potere da parte dei talebani.
Vivere in un paese devastato da un conflitto durato anni ha forgiato il carattere di Mohammed insegnandogli ad affrontare le difficoltà con coraggio ed ottimismo. "Da cittadino, vuoi avere accesso alle necessità di base. Non c'era accesso alle necessità di base, ma quando si tratta di come vivere nel tuo paese, devi trovare un modo. Così, ci siamo buttati i problemi alle spalle". Mohammed racconta di aver rischiato la vita più di una volta. Nel 2009, è stato vittima di un tentativo di sequestro e, negli anni in cui ha lavorato per il governo, è stato coinvolto in diverse esplosioni e attacchi terroristici. Nonostante tutto, era orgoglioso di essere afghano ed era determinato a fare la sua parte per il suo paese. "Sono una persona determinata a lavorare e a fare qualcosa della mia vita. Fare qualcosa di buono per la popolazione (…). Per me era impensabile lasciare l'Afghanistan nonostante avessimo l'opportunità di farlo. Potevamo trasferirci legalmente in altri paesi (…) ma non l'ho mai preso in considerazione perché volevo vivere in Afghanistan". La vita che Mohammed e la sua famiglia si erano costruiti nel corso degli anni è stata però sconvolta dalla presa di Kabul da parte dei Talebani. L'ottimismo si trasformò in disperazione, l'orgoglio in paura. "Quella è stata la prima volta nella mia vita in cui mi sono sentito come… tutto quello che avevo costruito non c'era più. Zero, finito, non è rimasto niente".
Il giorno della caduta di Kabul, Mohammed stava andando al lavoro, come ogni altro giorno. Notò però qualcosa di diverso. Il traffico era più caotico del solito e le strade erano insolitamente affollate. Il senso di confusione aumentò quando ricevette una telefonata da un collega che gli diceva di tornare a casa: "il governo sta per cadere", gli disse. Mohammed esitò. "Di cosa stai parlando? Sto andando in ufficio. Abbiamo delle riunioni oggi". Gli ci volle un po' per realizzare quel che stava accadendo così, quando un amico italiano gli offrì l'opportunità di lasciare l'Afghanistan con le truppe italiane, Mohammed capì che non poteva rifiutare l'offerta.
Quando il giorno seguente arrivò all'aeroporto di Kabul insieme a sua moglie, non poteva credere ai suoi occhi. Mohammed descrive quei momenti come "La peggiore esperienza della mia vita". C'erano talebani ovunque che sparavano sulla folla e aggredivano chiunque provasse a lasciare il paese. Mohammed non era sicuro di voler proseguire, ma per sua moglie non c'era altra scelta. "C'erano 1000 cose che mi passavano per la testa. Ma mia moglie era pronta a morire. Non aveva alcuna intenzione di tornare indietro (…). Lascio l'Afghanistan o muoio qui". La determinazione della moglie diede a Mohammad la forza di farsi strada tra la folla. Non fu facile ma, dopo molte ore, finalmente riuscirono ad entrare in aeroporto dove il contingente italiano li stava aspettando.
Adesso, vivono in un centro di accoglienza a Villanova, in Nord Italia. Sono grati alle autorità italiane per averli aiutati a lasciare l'Afghanistan ma, allo stesso tempo, provano un forte senso di frustrazione. "Ti lasciano senza informazioni, niente (…). Nel campo… i dirigenti a volte sono scortesi (…). Ad essere onesti, non sono contento di come ci trattano". Al centro di accoglienza non gli vengono fornite molte informazioni, mancano programmi di integrazione ed hanno poche opportunità di imparare la lingua. Ma Mohammed non si perde d'animo. È deciso a restare in Italia e garantire una vita dignitosa a sua moglie: "Vogliamo integrarci rapidamente nella società. Non vogliamo essere un peso (…).  Se il paese ci ha portato qui (…) vogliamo contribuire (…). Ci hanno portato qui e ci hanno offerto un posto dove stare. Quindi, resteremo in Italia. Questo è il mio piano".
Quando Mohammed si guarda indietro, vede un paese devastato e senza speranza, oramai segnato dalle ricorrenti invasioni talebane. Un paese in cui non vuole più tornare. "Non è la prima volta che l'Afghanistan attraversa una fase del genere (…). Ci sono voluti più di 30 anni per costruire questo governo (…). Avevamo delle speranze per noi stessi (…) e poi è successo di nuovo (…) Non voglio che i miei figli passino lo stesso. (…) Ho chiuso con l'Afghanistan".
Laila
ha 26 anni. È sunnita ed appartiene all'etnia Pashtun. È arrivata a Roma il 22 agosto 2021 insieme alle tre sorelle. Ha due Master, uno in relazioni internazionali ed uno in diritti umani. A Kabul, lavorava come ricercatrice per un'organizzazione internazionale nel settore della cooperazione allo sviluppo. Laila e le tre sorelle hanno lasciato l'Afghanistan il 22 agosto 2021. Una di loro aveva lavorato in passato presso un'ambasciata a Kabul, permettendogli di essere evacuate con il contingente italiano. I giorni successivi alla caduta di Kabul, le quattro sorelle tentarono più volte di entrare in aeroporto, e più volte dovettero rinunciare. Una di loro era al nono mese di gravidanza, rendendo ancora più pericoloso il tentativo di farsi strada tra la calca. La situazione dell'aeroporto era drammatica. I talebani pattugliavano i
gates
d'ingresso ed impedivano l'accesso alla maggior parte di coloro che tentavano di scappare. "
Sono rimasta bloccata nella folla e ho pensato che sarei morta. Ho iniziato a gridare e sono svenuta. Quando
sono svenuta, le mie sorelle hanno deciso che non era possibile proseguire così siamo tornate indietro
". Poi, la sorella di Laila ricordò dell'esistenza di un'entrata secondaria. Decisero allora di fare un ultimo tentativo. Ebbero fortuna. "
La cosa positiva era che non c'era nessun posto di blocco talebano. C'erano solo truppe straniere
". Tra le truppe straniere c'erano anche gli italiani. Si identificarono e restarono in attesa. Dopo molte ore, finalmente superarono i controlli ed entrarono in aeroporto. Il giorno dopo erano a Roma.
Laila e le sorelle sono donne istruite e indipendenti. Quando Laila aveva 2 anni, il padre decise di trasferirsi in Pakistan. Nonostante fossero rifugiati, riuscì a far avere un'educazione alle figlie. Dopo il Pakistan, Laila si trasferì in India per l'Università (ha due master, uno in relazioni internazionali ed uno in diritti umani). Tornata a Kabul, trovò un lavoro come ricercatrice presso un'organizzazione internazionale nel settore della cooperazione allo sviluppo, dove ha lavorato fino all'evacuazione. Anche le sorelle lavoravano per organizzazioni internazionali. "Siamo istruite, lavoravamo. Avevamo una buona vita. Avevamo una casa, una macchina. Eravamo indipendenti. Eravamo felici della nostra vita". Avere un'istruzione, generalmente un motivo di orgoglio, per loro è stato un fardello. "(…) Non dicevamo che lavoravamo per organizzazioni internazionali perché (…) le donne che lavorano con le organizzazioni internazionali, secondo la società, non sono brave ragazze. Dicono che queste ragazze non hanno un buon carattere. (…) La prima volta che mia sorella è andata negli Stati Uniti con una borsa di studio, non l'abbiamo detto a nessuno per paura di essere discriminate". Così, dopo la presa di potere dei talebani, le quattro sorelle sapevano che sarebbero diventate bersagli facili per un regime che limita la libertà e l'educazione femminile. "Sapevamo che se fossero arrivati i talebani, ci avrebbero preso di mira perché non accettano che le donne abbiamo un'istruzione; non amano questo tipo di donne".
Laila adesso è a Roma con le sorelle. Il padre e il cognato le hanno raggiunte qualche giorno dopo il loro arrivo. La famiglia è dunque a Roma, seppur sparpagliata in luoghi diversi della città. "Siamo tutti a Roma ma non siamo insieme. (…) Psicologicamente non stiamo bene. Soffriamo molto. Affrontiamo molti ostacoli (…) se fossimo insieme almeno sarebbe più facile". Laila ricorda con nostalgia la sua vita in Afghanistan ed è consapevole delle difficoltà che la attendono. "Avremo delle difficoltà all'inizio perché dobbiamo ricominciare da zero. La vita che avevamo a Kabul, le nostre conquiste, il lavoro che avevamo… (…) per due anni potremmo non essere in grado di avere lo stesso stile di vita". Vivere in un centro di accoglienza, in un paese dove tutto è nuovo e diverso può essere, a volte, demoralizzante ma Laila è determinata a rimanere in Italia. "Le condizioni in Italia sono migliori che in altri paesi europei (…). Potrebbero esserci delle difficoltà, ad esempio potremmo avere difficoltà a trovare lavoro, ad imparare la lingua, ma io e la mia famiglia non vogliamo lasciare l'Italia. (…) In un momento difficile della nostra vita, l'Italia ci ha aiutato. Quindi non è corretto lasciare l'Italia e andare da un'altra parte". Laila, che ha vissuto in Pakistan da piccola, sa cosa vuol dire vivere da rifugiata.  "So che essere rifugiato non è facile. Ricordo dell'esperienza da rifugiata di quando ero bambina. La gente in Pakistan ci chiamava 'rifugiati'. A quel tempo non sapevo cosa significasse 'rifugiato'. Non ci chiamavano per nome, dicevano sempre che eravamo rifugiati".  Spera che in Italia le cose vadano diversamente. Il suo unico desiderio ora è quello di integrarsi nella società, trovare un lavoro e iniziare una nuova vita.
Il legame di Laila con l'Afghanistan è forte e le piacerebbe sapere di poter tornare un giorno "se riconoscessero i diritti delle donne, se rispettassero le donne".  Tuttavia, la speranza di un futuro luminoso per l'Afghanistan si fa sempre più lontana ed irrealizzabile. "L'Afghanistan non sarà in pace (…). Abbiamo lottato per la nostra educazione, per i nostri diritti. Abbiamo costruito la nostra casa (…). E poi, dopo 20 anni, ci siamo ritrovati di nuovo nella stessa situazione. (…) La situazione potrebbe migliorare, ma dopo 20 anni saremmo di nuovo punto e a capo".
---
For interview requests and further information, please contact / Per richieste di interviste e per ulteriori informazioni, si prega di contattare:
Roberto Forin, MMC Global Programme Coordinator, roberto.forin@mixedmigration.org
Download the press release
Scarica il communicato stampa